Water parks in Thessaloniki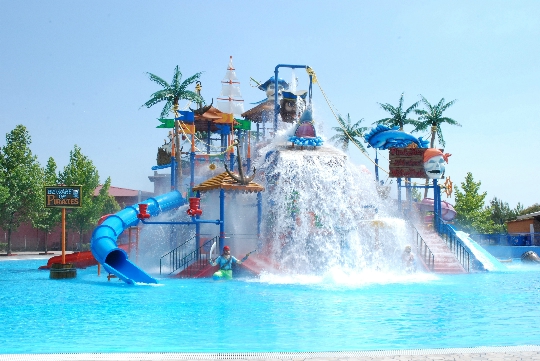 After visiting the water park in Thessaloniki, guests will be able to compete with an artificial storm, visit a massage, experience a water attraction after another, play tennis, football or basketball.
Waterpark in Thessaloniki
Water park "Waterland" features:
6 slides with jumps and 5 water streamers (we have "Multi Slides", "Simvoli Slides"), a mountain river with a waterfall;
pool Zen Pool, Kids Pool, Tarzan (moving from one side of the pool to the other by means of platforms and ropes, adults and young people will be able to test their strength and agility), Wave Pool;
Pirate island for younger guests;
points of public catering (restaurant "Knossos", the restaurant "Al Time", the cafeteria "Atlantis" and "Fruitland").
In addition, the water park can be foundplaygrounds, children rolling point mini-cars, stores, showers, as well as attend the shows and performances with the participation of Greek artists.
Ticket adult guests will cost 14.5 euros, students - 9.5 euros, 4-14 years old children - 9 Euro.
Water Activities in Thessaloniki
Those who can not imagine a vacation without water treatment, can stay in a hotel, a swimming pool - "The Met Hotel", "Makedonia Palace", "Hyatt Regency Thessaloniki".
Despite the fact that the water off the coast of Thessalonikimuddy and unsuitable for swimming, beach lovers can look to close this beach resort - "Angelochori" (windsurfing and kite surfing), "Nea Michaniona" (carefree holiday + active games on the equipped sites), "Perea" (day - sunbathing, swimming, volleyball, lunch in the tavern, the evening - fun party at the water), "Agia Triada" (passive + active + observation of the breathtaking sunset).
Divers are advised to contact the club servicesdiving Triton (if you wish, you can pass the initial training course) -in the dives they met with starfish, sponges, octopus, see the coral reefs. But experienced divers instructors will offer to make a night, as well as diving to 15-55 meter depth to explore interesting caves, depressions, sunken ships.
For those wishing to organize a trip to Lake Kerkini - where you can admire the birds and plants that take advantage of optional excursions as a travel by boat and canoe tours.
For those interested in boat trips possibleadvise to hit the road on the boat, push off from the White Tower every hour (boat trip lasts 30 minutes). And you can go on a boat trip around the bay Fermaikos to admire Thessaloniki from the sea, fishermen's huts, a national park (Axios river delta), as well as to be photographed against the backdrop of the picturesque views. Well-off tourists can rent a yacht in the harbor with the captain - is a pleasure worth 500-600 euros (for a company of 10 people).
Photo