Halkidiki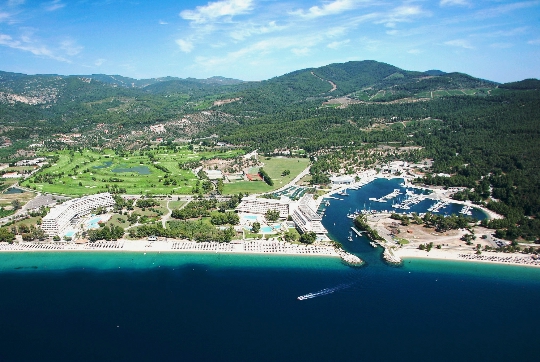 Related areas of Halkidiki consists of three parts - they are called "fingers".
Kassandra
Kassandra is famous resort village.
Kallithea: Party People should spend time in a disco Ahoy, supporters and recreational tour - explore the ruins of the temple of Zeus Ammon (he had a rectangular shape and reflect the Doric style) and the caves of Dionysus (in the sanctuary of the Greeks worshiped the god Dionysus). Well, the local beach will appreciate the gentle entry into the water and clean the glittering white sand (in July is to take part in the festivities in honor of St. Panteleimon, marathon swimming is held at the time).
Nea Flogita: attractive nightclubs, taverns, markets, where you can get the extra virgin olive oil, seafood, souvenirs, created by the hands of the Greek masters, wine, clothing.
Nea Moudania in July here celebrate the festival "Sea Festival" - the tourists will be able to take part in entertainment events, as well as visit the grand feast (main feast - wine and fish).
The famous Mount Athos
Besides the world-famous monasterycomplex Athos interesting Ouranoupoli - then it is recommended to inspect the tower prosphoras (roof and interior are in the 19th century, the lower stone part - to the Byzantine era, the top 2 floors - to the days of Turkish rule), where the museum is open, which are organized various exhibitions and can be see the pictures of spouses Locke, who once lived in the tower, as well as to get acquainted with the materials of their activities.
Area Sithonia
Sithonia is popular with travelers thanks to the following towns:
Nikita: interesting shops, where there is to get honey (about 20 species). And taking the card, you can go on a sightseeing - old tower-mill, St. Sophronius Basilica (structure length - 48 m, will be able to admire the preserved mosaic floor made in the art of creating paintings and pieces of marble), St. George's 19th century chapel (built on the ruins of an ancient temple), the church of St. Mary (preserved unique murals of the 16th century).
Neos Marmaras: noteworthy Church of the Dormition of the Virgin and the beach, surrounded by pine trees (he was awarded the Blue Flag, the conditions for sailing, diving, water skiing).
Where to stay tourists
You are looking for peace of mind? Look closely at the hotels picturesque Sithonia - then you will be able to relax on the beaches and in secluded places (ideal for family and children's activities). In addition, accommodation in Sithonia will benefit the health of travelers, because the local climate has useful properties.
Hotels of any class, sandy and pebble beaches,discos, Greek taverns (visitors are treated with inexpensive and tasty local dishes), all kinds of entertainment - all this you will be available in Kassandra.
If you wish, you can stay in Mount Athos(A monastery complex, which can only visit the men received a special permit), but it is worth considering that almost all the funds are in Ouranoupolis.
Photos Halkidiki