Rent a Car in Greece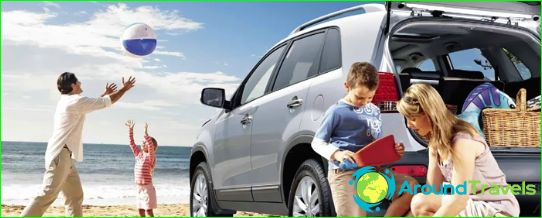 In Greece, the high season begins in mid-Juneand lasts until mid-September. In those days easier to book a car rental in advance, and it's best to do it through the Internet. At other times, on the contrary, advantageous to negotiate on the spot, and you can haggle about prices. For local distributors operate at lower prices than the international companies.
Terms of rent and the required documents
The main document, which must be prepared,it is the driver's license. At the same time domestic rights may well come, but not all rental locations. If you have an international driver's license, then select a rolling office will be easier. The driver must be over 21 years old, but it is advisable to have already turned 23 years old. Driving experience should exceed one year. Well, it is desirable that the driver was less than 70 years.
But as soon as possible to arrange a package of insuranceservices. Be sure - fire. Additionally, you can pay for insurance against theft, etc. The easiest way to deal with this in place, so that later there was no misunderstanding. A misunderstanding between the distributors and the tenant can occur when appoint an additional charge for each kilometer that the car will pass. This amount is usually taken with a tourist when you return the car, so you should initially discuss all these points, it is desirable to sign the agreement, then rent a car in Greece has turned into a headache for you.
Features of movement in Greece by car
If you do not speak Greek, then know thatinscriptions on signs duplicated in English only on the roads and in the city, the rest of the inscriptions made only in Greek. In Athens, for example, with signs all right, but are often traffic jams. For travel on mountain areas need to rent a four-wheel drive vehicle only, because the other does not pull. In cities as preferable to rent a compact runabout.
But the trip will be at your disposal for the bestGreek beaches and you will be able to touch this ancient as the country cherishes its history. Many of the buildings have survived from the time of the legendary Hellas. In many cities of Greece then built the Acropolis, and some of them stands to this day. To visit on excursions to such places - is not only interesting, but also very informative. The most impressive Acropolis in Athens.
Another page in the history of the country is represented by mountain orthodox monastery. There is also guided tours that will give you an unforgettable experience. For example, this Monasteries of Meteora.
But in Thessaloniki have White Tower, builtHere the Turks as a fortification. She was later a barracks, and then - a prison. Now it is well preserved from the XV century tourist site.
The most beautiful parts of the world - Greece
Photo