Greece Traditions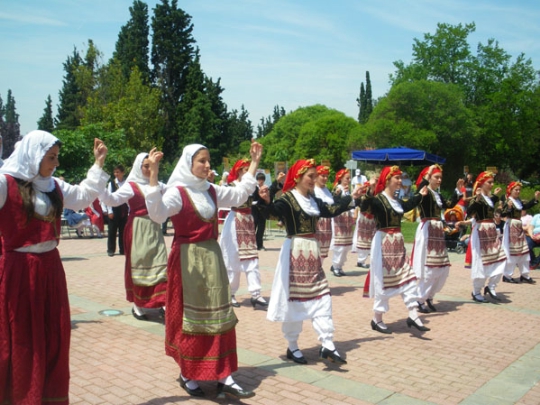 In the good old Greece, where there is everything,lack of customs and traditions. Familiarity with them can take the lion's share of vacation time or vacation spent here. Sensitive interlocutors, pleasant companions for a relaxing break, dance partners or guides in memorable places, the Greeks make the gold reserves of the country and are for learners of Greek tradition no less interesting than the ancient temples and statues.
The schedule and order
A typical day of an average Greek's subordinateroutine, which he holds throughout life. The people of this country are quite conservative and prefer not to change once and for all established habits, friends, and even the lunch menu. Early rise and morning coffee - in the tradition of Greece and its people, as well as an afternoon siesta. By two o'clock in the country all the stops to re-make, open, start playing and begin to sound after five in the evening.
After returning from work, the Greek men spend some time with my family and then go to the tavern, where they can chat with friends over a glass of wine the night before.
Read lips
Some gestures to communicate with each other Greeksvery different from the familiar to us, but because they should know not to get into an awkward position. Wishing you refuse Greek zaprokinet head back slightly, slightly narrowed eyes and clattered language. If the person wants to take the floor in the dialogue, it will make it to his lips finger and wanting to clarify one point - raise eyebrows and repeatedly turn your head from side to side.
Useful things
Caught one on one with the manifestations of traditionGreece and customs of its inhabitants, it is not necessary to be afraid of misunderstanding. As a rule, the Greeks are guided by the generally accepted laws of hospitality, which are close to a person from any continent:
Having a local resident in the invitation to drinkthe nearest tavern or dine in the restaurant, do not even try to get the money and pay the bill. It can not just hurt your counterparts, but upset him to tears.
If you are going to visit a Greek family,grab with a small souvenirs - chocolate, flowers or toys for children. This will mark your location and help to establish a nice contact with all members of the family.
Some punctuality - in Greek traditions. Even half an hour late to a business meeting here in the order of things, and therefore should not be upset about it and show their impatience and dissatisfaction.
Photo