Water parks in Corfu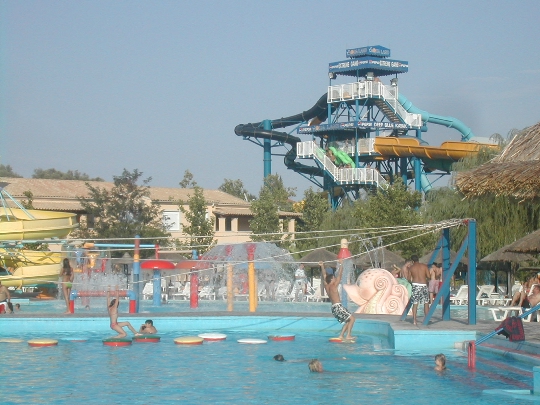 Corfu - a great choice for families with young tourists, but also for adults there is what to do with myself, and special attention should be paid to the local water parks.
Water parks in Corfu
Water park "Aqualand" pleases the visitors 16 waterslides for adults ( "Multi Hill Slides", "Giant Slides", "Hydrotube Slides", "Hurricane Twist"), 9 children's slides in the form of frogs and fish, shallow pool, fountains mushrooms, pirate with water cannons complex of ponds artificial waves, 6 swimming pools, a jacuzzi and grottos, a mini market, Photoshop, sun loungers, where you can sunbathe while sipping a cocktail. In addition, children are provided a trampoline, mini-cars and trains, where you can go; and adults offer rafting or bungee jump from. For a ticket valid all day, with adult charge of EUR 25, and a 5-12 year olds - 17 euros. Ticket valid 3 hours from 15:00 B18 for adults will cost euros, and children - at 13 euros. If desired, you can get a weekly subscription that adults will cost 70 euros, and children - 50 euro.
Waterpark "Hydropolis" is equipped with a water complextobogganing (open descent, individual slip), giant water slopes, closed water pipe, high-slide "Kamikaze", "lazy river" facilities for water aerobics and water volleyball, mini-zoo with rabbits, poultry and ostriches, a children's pool 6 waterslides iigrovoy platform where installed swing and a trampoline. In addition, the "Hydropolis" many non-aqueous entertainment - here you can play tennis, volleyball, badminton, basketball, billiards, air hockey table, and to trust the hands of the masseur, or pull your body into an open-air fitness area. Here children will not get bored animators and adults will engage in team games and even invite them to take part in water competitions. Full day visit to adults will cost 15 euros, and children - 10 euro. Visiting from 16:30 - 10 euros / adults and € 6 / children.
Water sports in Corfu
Arrived in Corfu for a beach holiday canhead on Bataria Beach beaches (nemnogolyudny beach, suitable for family and children's pastime, rent chairs will cost 2.5 euros / day, and thanks to the clear water and many fish there are created conditions for snorkeling and diving), Barbati Beach (popular with lovers of swimming among rocks and caves, famous for water with a high content of iodine, available boat rentals and sports equipment), La Grotta Beach (appreciate his divers, immersion in water is carried from the steps leading to the 10-20 meter depth).
If you are interested in boat trips, youoffers a cruise that involves inspection of caves, such as "blue eyes", and submerged rocks, and then make a cruise ship dock at the picturesque beach.
Photo