Hong Kong Airport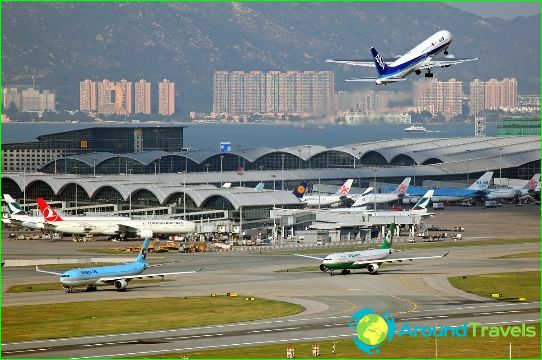 The airport in Hong Kong is known as Chek Lap Kok, on thethe name of the island on which it is located. Most of the air of the complex is built on an artificial artificial island, is connected to two natural island formation. The airport in Hong Kong is the world's fifth-largest passenger and one of the first on the degree of convenience for passengers. airport terminals are connected to the shuttle system consisting of three stations that provides rapid movement from the registration area to the exits to the aircraft.
Connections to the City
Island Chek Lap Kok airport is connected with the citydeveloped transport infrastructure - several buses go here, as well as on the territory of the terminal operates a large ferry terminal SkyPier. Passengers using the ferry service can reduce the time of customs and immigration control.
About terminal
The largest terminal - this eight-storey building, inwhich are located on the ground floor reception desk on the fourth floor there are customs and immigration controls, on the sixth floor pass passport control, and on the eighth - checking of tickets and boarding the plane, through a panoramic, private express elevator.
Entertainment and leisure
The entire terminal - itshopping and entertainment and restaurant area, offering a wide range of services to various industries for visitors and airport passengers. On the roof is also an observation deck and outdoor restaurant, ready to offer a great pastime in anticipation of landing. Of course, the airport in Hong Kong offers several seating areas, including the luxury business rooms with cozy seating areas, wireless internet access and a conference room, room families with children, where young passengers of all ages will get a rest and care, the opportunity to observe the sleep and diet as well as the play on a specially equipped area. Entertaining terminal area offer great facilities for children and adults - c 11.00 to 22.00 open Aviation Discovery Centre, where anyone can feel like a pilot or controller Air Service. And for children opened Dream Come True Education Park, where kids can learn about different professions and play pilots or doctors with a full range of gaming accessories, including uniforms.
Photo Hong Kong airport