Areas of Hong Kong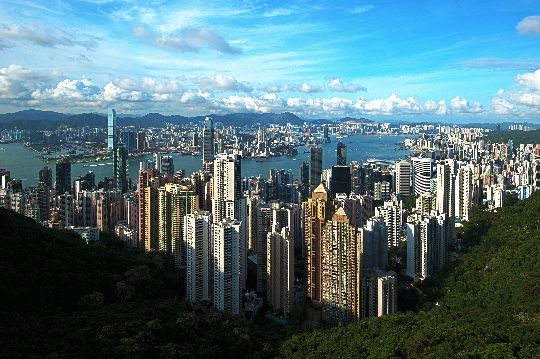 Hong Kong Areas reflected on the map, familiarity with which will allow to see the administrative division Kong (knowing the characteristics of each of the areas you will be able to successfully plan your vacation).
In total 18 districts in Hong Kong - these include the Kowloon City District, Central and Western, Tsuen Wan District, Wong Tai Sin District, Kunton, Sai Kung District, Kwai Tsing District, Tai Po District, Sha Tin District and others.
Description of the main areas and attractions
Southern region: await guests at amusement park "Ocean Park" (a oceanarium, area with sea lions, attractions for children and adults), beach Repulse Bay (vacation here contributes to a comfortable bathing thanks to a rather shallow beach, sun beds, umbrellas, grills for barbecues), waterfront Aberdeen Promenade (to the west of its "neighbor" is the fish market, and in the east - game Center squash and tennis), a floating restaurant "the Jumbo" (here you can take a ferry to enjoy Cantonese and western cuisine), the Hong Kong maritime museum (in addition to models ships and pirate galleon in the museum exhibited a collection of ceramics and thematic painting).
Kowloon City: interesting Park Kowloon Park - it is famous aqua center, walking trails, a lake with waterfowl, alley comic and cartoon characters, the research center of Hong Kong heritage.
Central and Western District: hikers recommended to walk on Daddell Street to admire the street gas lamps wishing to spend time in clubs and restaurants serving different cuisines, in the district of Soho, and shopaholics - the shopping streets Wing Lok Street (she took care shops and stores, of interest for fans of traditional Chinese medicine) and Lindherst Terras. Neighborhood interesting peak of Victoria, the rise of which can be done by cable car (with viewing platforms will be able to make beautiful pictures), the Hong Kong Park (in addition to the dancing fountains, swimming pools, an amphitheater, a playground has on its territory the Museum of tea ware, which exhibited a collection of Chinese porcelain and stamps; here you can become involved in the Chinese tea ceremony, costing about $ 80), Madame Tussauds (collection of 100 wax figures).
Where to stay tourists
Travellers best staycenter: in fact, the town has two centers, presented in the form of the western part of Hong Kong Island and the northern part of the Kowloon Peninsula. But even if the tourists stop at the hotel, remote from the center, it will not give them too much trouble - they could simply get to anywhere by taxi or public transport. Important: it is worth considering that the rooms at the 3-star hotels may have limited space, and the view from the window - "delight" deaf courtyard. You principled views? Look closely at the hotels where you can select or Sea View Harbor View Room.
Pictures of Hong Kong districts