Christmas in Hong Kong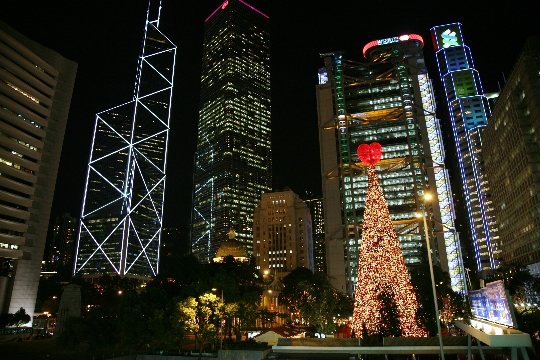 Christmas in Hong Kong - a festive atmospherewith music coming from the doors of restaurants, skyscrapers, illuminated with colored lights and red lanterns - a symbol of fun and hospitality.
Features of the celebration of Christmas in Hong Kong
In Hong Kong Christmas mood is created thanks to the festive illuminations, dressed up elkam and light installations.
The evening on Christmas Eve for the Hong Kong people spendfamily dinner, or in the many bars and restaurants with special menus and entertainment programs. And travelers will be able to order food from the Christmas menu, such as a restaurant "Spring Moon".
Entertainment and celebrations in Hong Kong
December 5 - January 1 Hong Kong waits guestscelebrating the Winter Festival (the main action takes place in the Central area and Tsim Sha Tsui): you will see the building, decorated with colorful garlands, will be able to purchase the desired items in the shops under the Christmas sales, to look at the street performances, accompanied by a parade of dragons, performances theatrical corpse and traveling musicians .
If you decide to go ice skating, go for this purpose on the ice rink in the area of ​​Tsim Sha Tsui (at the box office, besides skates, serves to bring warm gloves and socks).
Once in Hong Kong on Christmas vacation, be sure to visit on an evening cruise on the Gulf of Victoria - a two-hour walk will be accompanied by dinner and entertainment program.
Not deprived of their attention and shopping centerTimes Square with the adjacent territory: the holidays are organized Christmas performances, live music and entertainment shows. It should be noted that the theme of festivals (including costumes and show) around Times Square every year is different, so it is advisable to think in advance what you go on holiday.
Festive Christmas events in Decemberheld in Hong Kong Disneyland - here visitors will enjoy nightly fireworks, parades and amusements with Mickey, Minnie and other cartoon characters. And then you can go to various attractions.
Christmas fairs and markets in Hong Kong
Christmas Fair HK Mega Showcase: 24-27 December you can get dishes, toys, cosmetics and perfumes, silverware, clocks, leather goods, sporting goods, products from crystal and glass.
Christmas Market City Kid's HKPPA: in late November should come here with the whole family to enjoy different delicacies, as well as attend the recreational activities for children.
Sense of Touch: the opening of this Christmas market takes place with the support of the beauty salon "Sense of Touch" Dec 4, so here should go shopping for skin care products, as well as fashionable scarves and jewelery.
Photo