Traditional cuisine of Hong Kong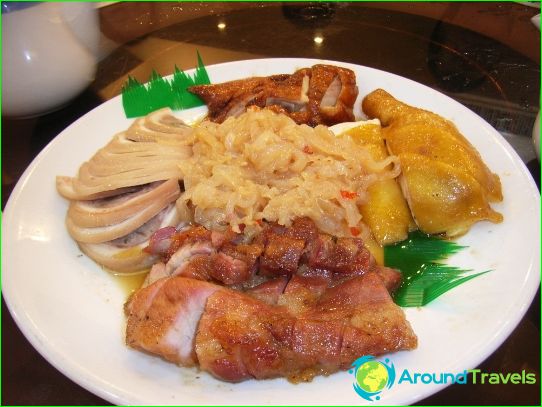 Dining in Hong Kong - a paradise for gourmets: here you will meet a variety of restaurants, offering its visitors a variety of cuisines of the world (in Hong Kong, more than 60 restaurants with Michelin stars). As for the cost of the food, it all depends on the location of places - the price of the same dish in the middle of the block and close to some attraction will differ by several orders of magnitude.
Food in Hong Kong
The diet of Hong Kong consists of rice, fish, seafood, noodles, spicy sauces and vegetables.
In Hong Kong should enjoy the taste of savorysnacks packed in bamboo baskets ( "features DimSum"); pork ribs, fried in a pan ( "chasiybao"); boiled pork with shrimp ( "shiumey"); boiled dumplings of shrimp ( "hargau"); meat roasted on a spit; chicken baked in salt; Duck Peking.
Where to eat in Hong Kong? At your service:
cafes and restaurants where you can enjoy local and other cuisines;
food courts, outdoor shopping centers and subway.
Only in Hong Kong you can taste trueChinese cuisine, popular in different areas of China - it is worth a visit to the floating restaurant or Kowloon Restaurant. And you can dine on a sampan in the Bay Causeway.
Drinks in Hong Kong
Popular drinks of Hong Kong - soy milk,coconut juice, green and black tea, fruit juice, a drink based on sugar cane, Red Bean Ice (chilled drink from red beans with sugar syrup and condensed milk), Bubble Tea ( "pearl" tea with black or colorful balls of tapioca), Pineapple ice (pineapple drink with sugar syrup and ice), Yuan Yang (drink, representing a mix of coffee and milk tea in Hong Kong), Hot Coke (a refreshing drink with lemon and ginger).
Of spirits in Hong Kong, you can try the rice wine ( "ziandzhing"), plum brandy ( "lianghua drink"), whiskey ( "Kaolin"), beer ( "tsingtao", "San Miguel").
Gastronomic Tour in Hong Kong
Embark on a gastronomic tour in Hong Kong, youvisit for a walk to the local shops and restaurants, where you will be offered to taste the best traditional dishes. On this tour you are together in a guide who will tell you about Hong Kong's history, stroll through the "delicious" places - visit the restaurant, which offers a taste dishes of noodles, as well as a restaurant with snacks dim sum, traditional tea, stores where sold traditional Chinese puddings, and stores with a wide selection of dishes from soy.
And you can come if you want to Hong KongMaster Class - a guide will take you in the morning to the market and help you choose the products that will be used for the preparation of your meal (you will take an active part in this process). In addition, as part of the tour you will visit the wine cellars and taste the wines of different varieties.
Hong Kong - a ringing wine glasses, cozysnack, spicy aromas of dishes being prepared, noisy celebration and food festivals. Wherever you are in Hong Kong, you'll want to sample a variety of dishes. Try them all - do not resist the temptation has arisen.
Pictures of Hong Kong national dishes