Hong Kong 1 day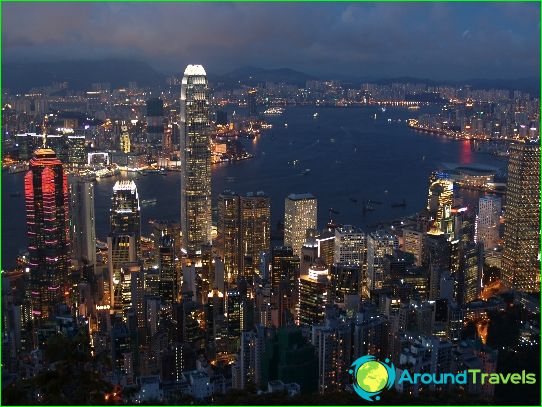 Trying to see the whole of Hong Kong for 1 day is unlikelyIt will be successful, and therefore it is best to jot down the actual route and time to visit the most important city attractions. Moreover, the financial capital of Asia, boasts a wide variety of monuments, parks and entertainment centers.
Their answer to Hollywood
Walk around Hong Kong can start with hiswaterfront. In 2004 here solemnly opened its own Walk of Stars, on which you can find many handprints of celebrities and stars of cinema in their honor. Walk of Fame is crowned by the figure of Bruce Lee, and in the evenings there are popular songs in karaoke and training with well-known Chinese masters of martial arts.
On the waterfront is best to watch the show, whichrecorded in the Guinness Book of Records. Every day at 20.00 in Hong Kong begins the "Symphony of Lights", which involves skyscrapers. Within ten minutes of the Victoria Harbour dancing laser lights and skyscrapers like winking at each other millions of colored lights.
At the peak of Victoria
Stroll along the promenade, you can go toVictoria Peak and enjoy the panoramic views of the city. This is best suited clear weather, so that can not hurt to enjoy the spectacle. However, while in Hong Kong one day, you do not have to choose, and therefore worth the risk and buy a ticket on the funicular. By itself, this train is already a local landmark. In the course of its following with great views, and there is a tower Peak Tower on the mountain, with a viewing platform which presents a huge Hong Kong in full splendor.
Biggest Buddha
Lantau Island in Hong Kong's boundaries - a place where you cansee the largest on the planet statue of a sitting Buddha. 24-meter-high sculpture is on the podium, but to reach it you can use the cable car. Cabs on it - not for the faint of heart. Gender glass booths, and during the ascent may seem that the bottom of the depths. Photographers will appreciate the kind of opening and the Buddha, and the surrounding area.
Shopping - best doping
Tired of walking in Hong Kong, there is a sensereward yourself with a visit to its shopping centers. The city opened thousands of stores that sell everything from branded items to them is quite high-quality fakes. Please yourself and friends souvenirs, try the masterpieces of Chinese cuisine in the restaurants on the waterfront, and again wonder miracle called Hong Kong - worthy end of a busy day in one of the world's great cities.
Photo