Hong Kong Kitchen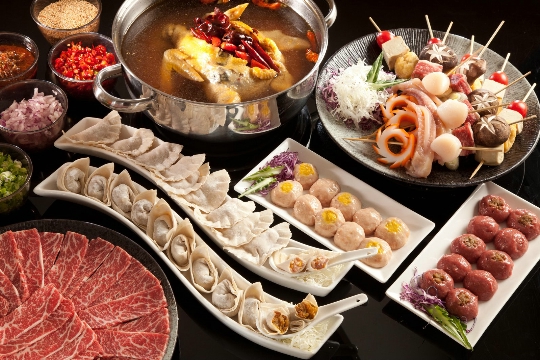 Hong Kong Kitchen is mainly based onCantonese kitchen, which is characterized by a sweet taste (dishes usually cooked or steamed and lightly fried extinguished to preserve the useful properties of fresh produce).
National cuisine of Hong Kong
Most local dishes and fat can not be calledsharp, even in Hong Kong and not without cooking spicy dishes, seasoned with pepper and ginger. Cantonese dishes - a sophisticated flavor combinations: helps achieve this fish, soy and sweet and sour sauces. In Hong Kong, is pampered lobsters, sea urchins, oysters, turtle and shark fin soup and other delicacies. Lovers of sweet is worth a try in Hong Kong black glutinous rice with coconut milk and exotic fruits, pineapple cakes and mango jelly.
Popular dishes from Hong Kong:
porridge "tintszay" (it is made from rice, pork, peanuts, squid and fish);
"Poon choi" (a dish of many ingredients -pork, shrimp, dried eel, chicken, mushrooms, Chinese radish, ginseng, and others, which are stacked in layers, and pour the broth - a meal made from the start of the upper layer, and finish - the lower, without mixing ingredients);
"Kung pao" (a dish of chicken with peanuts);
"Dim sum" (a dish of Chinese dumplings with different fillings, preparing for a couple).
Where to try the national cuisine?
Interested street food? Go to the open trays - Hong Kong merchants will offer you get cuttlefish skewers, noodles, fish balls, chicken legs, fried tofu. Pay attention to eating establishments, marked "QTS" (it awards the Hong Kong Tourism Board by testing public eating places) - the food they serve quality and delicious, and the cost of food, as reflected in the menu, clearly, will correspond to the prices specified in the bill.
In many restaurants you can go in casual clothes, but respectable and expensive set strict dress code (check this moment when booking a table).
To stave off hunger in Hong Kong suitable "Tim HoWan "(an institution famous for pretty low prices and the best dim sum in the city samami) or" Man Wah "(here we should try to eat shark fins and desserts in the form of cooked pears and tangerines).
Cooking classes in Hong Kong
In Hong Kong culinary courses Martha Sherpawanting to talk about authentic Chinese cooking techniques and teach them to cook dim sum sama, rice rolls with pork barbecue, rice balls filled with egg.
Visit Hong Kong can be during theGastronomic Festival "Wine & Dine" (November), where visitors will be glad to welcome kiosks with culinary masterpieces (every year there are new pavilions, for example, "Area of ​​new products" or "Sweet Pavilion") and the best wines, jazz and pop performances performers, workshops and presentations on the subject of food and wine.
Photo