Season in Hong Kong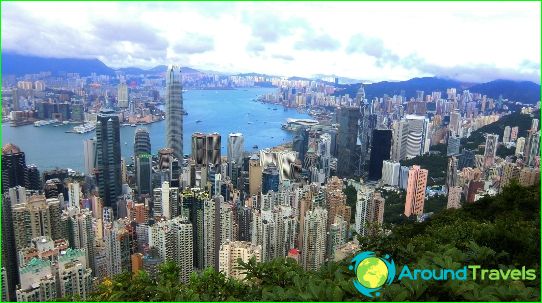 holiday season is almost year-round in Hong Kong.
The tourist season in Hong Kong
Spring: refers to the spring months March-April. At this time, quite warm (25 degrees), but with a high probability can go long and intense rains. Spring - flowering season, so arriving in Hong Kong at that time, to visit the local botanical gardens or to plan tourist visits to nature. And at the end of April you will be able to take part in the noisy carnivals.
Summer: Hong Kong summer lasts from May to October - is characterized by high humidity and relatively hot weather (+ 28-35 degrees) for him. May-July is ideal for enjoying a beach holiday and diving. In August, heavy rains are possible, and are characterized by heat, high humidity for September and October, hurricanes and typhoons. In October, the weather is more comfortable for all kinds of recreational facilities, including the beach.
Autumn: Autumn months is a whole of November (average temperature - + 23-25 ​​degrees) when it is best to spend time on the beaches of Kowloon and Lantau, put to sea on a yacht or boat, to make leisurely walks, participate in a variety of excursion programs.
Winter: winter months - December to February. In winter, there is practically no rain - this time is ideal for sightseeing, shopping and pilgrimage. And in February, you can take part in New Year's festivities, accompanied by the Chinese rites and ceremonies.
Beach season in Hong Kong
The duration of the swimming season - from April to November.
Hong Kong has a public, private andwild beaches. So, Lantau Island will welcome you with its beaches, Silvermine Bay, Pui O, Tong Fuk, and Lamma Island - beaches Hung Shing Yeh and Lo So Sing. If you want to relax on the best beaches on Hong Kong Island, take a look at Deep Water Bay, South Bay, Chung Hom Kok, Middle Bay, Repulse Bay, Shek O, Turtle Cove.
Diving
The dive season starts in March. Beginners should look at Hong Kong's dive center Stanley Ho Sports Centre, and professionals - Aberdeen harbor (where you can go on day and night diving excursions).
Swim to the middle-sized fish and corals can be,immersed in water islands in the South China Sea. For this purpose, you can choose Chiu Yam Hole or Ung Kong Bay (here you can swim with the fish-flutes and moray eels). If you want to meet anemones, crabs, sea urchins and swim surrounded by beautiful coral reefs for diving, choose Zuo island in Hang and Hang Wong Chek.
If your main goal - to study shipwrecks, it is better to carry out the dive near the islands of Port Shelter and Hoi Ha Wan.
Rest in Hong Kong will give you a rich excursion program, a bustling nightlife, fun shopping, picturesque beaches.
Photo