Shops and shopping centers in Hong Kong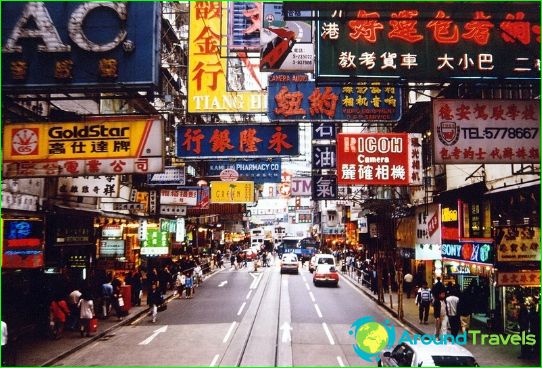 Hong Kong - a former British colony, nowautonomous territory of the People's Republic of China, the world's financial center with excellent transport and tourist infrastructure. The propensity towards entrepreneurship - one of the traits of local residents. All these factors determine the development of trade in Hong Kong and make it a great place for shopping.
Hong Kong is, rather, for the exclusiveor, at least, quality shopping. Cheap products from the standard of the Chinese market is not found. It is said that East and West meet in Hong Kong, but also that you can buy the impossible. For example, the iPhone for a couple of tens of dollars, which is easily converted into a TV with a telescopic antenna, and a bitten apple logo glued to any part - of your choice. And this machine will serve you faithfully for many years.
All the variety of shops in Hong Kong to describe, and even more impossible to visit. Probably, it is more convenient to divide the metropolis on the shopping districts, and to devote one of them at least a day.
Shopping areas in Hong Kong
Admiralty and City Center. These are the areas where you can meet the very rich and very famous people from around the world, areas that do not sleep all day and night. During the day they lured visitors elite boutiques of world brands, works of art from the art galleries and antique shops, shopping centers, Pacific Place, Landmark, IFC. At night, the Center begins a new life, numerous entertainment offers no less exclusive holiday.
Dike harbor. Almost all the diversity of Hong Kong's trade is represented in the area. Clothing, shoes, accessories, and branded counterfeit electronics, household goods, cosmetics - all that you can imagine, and it is impossible to assume that this happens, you will find in the area. Here and luxury fashion boutiques in the Lee Gardens, Times Square, Fashion Walk, and the average price segment in the SOGO shopping center, and youth in the cheap stuff Island Beverly Centre. Without street market can not do, it's called Jardine's Crescent.
Sheung Wan. This is an old district of the city, where you can find Chinese goods and the national food. The Western Market traded products of Chinese artisans. On Koh Shing Street, you can find traditional medical drugs and services. Rarities from the depths of Chinese history painted in the windows of shops on Cat Street.
East and West Kowloon. These areas can be called the shopping center. There is not as noisy as in the central regions, fewer tourists and more locals.
District Mong Kok interesting whole streets of shopssame direction. On the same street are traded electronically, and on the other dresses for special occasions, in the third - household goods. There is also a Ladies Market market with inexpensive goods.
Pictures of Hong Kong stores