Taxis in Hong Kong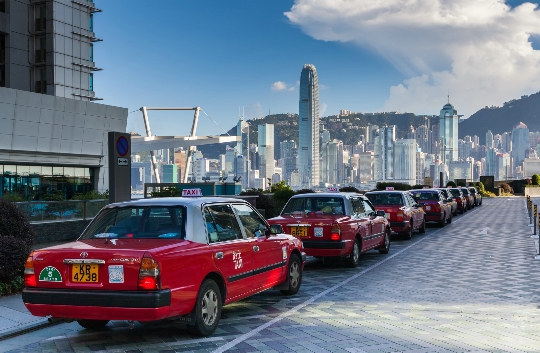 Since this special region of ChinaPeople's Republic is one of the leading financial centers of the world, a high level of development, and there are all the other sectors of the economy, including transport. Taxis in Hong Kong can be found almost everywhere, with the exception of remote regions.
Experts have developed specific recommendations for potential passengers Hong Kong taxis, the main purpose of - ensuring human security.
Recommendations for passengers
One of the main issues of interest to visitors to Hong Kong, where you can "catch" the car. There are several ways, including:
finding the nearest parking lot (the fastest and most convenient way);
near the place of tourist accommodation (hotels, hotel);
on the road (but there are areas where stopping is prohibited).
Machinery serving passengers, visitors to the region,most of them new, are equipped with meters mileage account. Because there is no problem with the definition of the amount of the trip, she highlighted, besides the taxi driver is obliged to print a check. If for some reason can not, you need to ask the driver to write a check by hand, that is also part of his responsibilities.
On the dashboard of any car taxiis the driver card, on which are written the name, license number. In the event of a dispute it is necessary to record the data and call the hotline where complaints and take passengers claim.
The full list of recommendations can be foundon the website of the Department of Transport in Hong Kong, here are listed phone numbers of experts to help solve the problems associated with the movement, including a taxi. Questions you can ask by phone: + 852 2804 2600, submit a complaint to the hotline by dialing 852 2889 9999.
Another phone (+852 1872 920) is designed for passengers who have forgotten things. It is here that receives all the information about the lost luggage and personal belongings.
colorful taxi
Generally, in Hong Kong, you can see three taxiscolors that are within the same region. The exception is the local Disneyland and the international airport, these two holy places for tourists can be reached using any taxi, regardless of its color.
Red cars that can be called onphone 2398 1881, 2332 2477, 2574 7311, are almost on the whole territory, they have their own system of tariffs. The first few kilometers of the cost is $ 22.00 NC, then pay included every 200 meters or minutes of waiting ($ 1.60 NC). Taxi Green (Phones - 2383 0168, 2677 8888) New Earth service, the fare is lower in the first part of the way the Tax $ 18.50 ($ 1.40 NC, respectively). Blue taxis can be found on the island of Lantau, the price for the trip - $ 17.00 NC (NC $ 1.40), for the call to dial 2984 1328.
Photos taxis in Hong Kong