Taxis in Hong Kong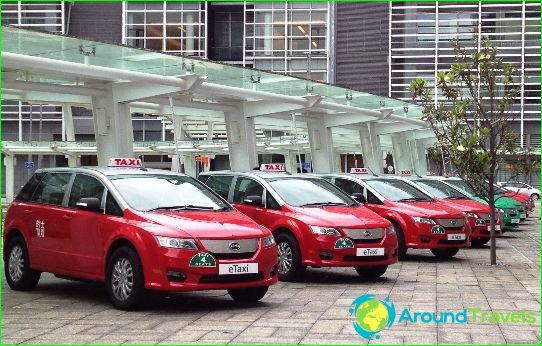 Taxis in Hong Kong - a huge number of cars, represented mainly by "Toyota" with a spacious interior (car seats 4-5 passengers), equipped with counters and air conditioning.
Taxi services in Hong Kong
For Hong Kong taxi is characterized by three colors: red taxi (they can not call in Discovery Bay recreational area, and the island of Ma Wan are permitted to call in from 23:00 to 07:00) to serve customers anywhere in Hong Kong; blue taxi - ride to the island of Chek Lap Kok, cruising around the island of Lantau, pick up passengers at the airport and Disneyland; green taxis - operate at the airport, Disneyland and the New Territories.
Take a taxi, you can,gone to special areas marked on the pavement inscription "Taxi" (there is a specially equipped room for boarding and passengers disembarking) and catch the car on the street (at the free taxi you see a burning red light located on the windscreen, in the lower part) .
Sitting in a taxi, it is necessary to buckle up (this also applies to sitting in the rear seats) - otherwise the driver may refuse to transport.
To call a taxi, you may need the following telephone numbers:
Red Taxi: 2760 0411; 2527 6324; 2760 0477; 2362 2337;
Blue Taxi: 2984 1328 (Lantau Taxi Association);
Green Taxi: 2457 0317; 2657 2267; 2699 1088.
The cost of a taxi in Hong Kong
Anyone who wants to know how much is a taxi in Hong Kong will be able to satisfy their curiosity by reading the current rates:
in a red taxi (it is the most expensive) forlanding, including overcoming the first 2 kilometers, passengers are asked to pay HK $ 20. As for the next 200 meters, they will be charged at the price of 1,5 HK $;
blue taxi (which is cheap) for landing + the first 200 m you will be asked to pay 15 Hong Kong dollars, and for the next 200 m - 1,3 HK $;
green taxi landing with overcoming the 2 km journey costing passengers 16,5 HK $, then every subsequent 200 meters are charged at the price of 1,3 HK $;
waiting for you pay HK $ 1.3-1.5.
It should be noted that the passage of wheelchairs andcrutches is not subject to any surcharges, and for the passage of a pram or animal you will be asked to pay 4-5 HK $ (as is the passage of any large luggage).
With regard to additional payments for travel on bridges, tunnelsand toll roads, they will have to carry a passenger. For example, the fare for the Discovery Bay Tunnel Link is charged 50-250 HK $, according to Shing Mun Tunnels - of HK $ 5, on Lantau Link (bridge) - 30 HK $.
Despite the fact that drivers do not expect tips, they rounded the amount of the account in a big way.
If you remain dissatisfied with the service or haveyou have a conflict situation with the driver, you can call the complaint hotline on 2889 9999 (necessarily keep the receipt confirming payment of travel).
The transport system of Hong Kong is very well developed and is particularly diverse, but for traveling short distances ideal taxi.
Photos taxis in Hong Kong