Water parks in Hong Kong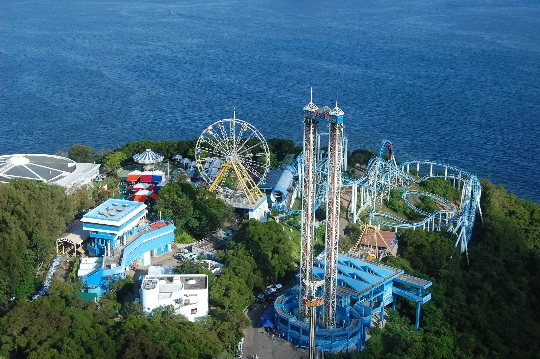 In Hong Kong, there are many places where you can spend a day having fun as friends and with family.
Water Park in Hong Kong
Hong Kong's "Ocean Park" features:
oceanarium, divided into several zones (pacing the transparent tunnel, visitors will see aquariums with sharks and a variety of fish, as well as be able to see the performance of dolphins);
mini zoo with pandas;
lagoons with fountains;
water slides and attractions: if desired, can be rafting on the river (the attraction "The Rapids"); test the water attraction "Raging River" (it involves a boat ride up the river through the jungle and steep descent);
cafes, restaurants, shopping stalls with refreshments, ice cream and sweets.
In a particularly delighted to visit Ocean Park will have children - for them are arranged holidays and exciting show.
Adult guests are asked to pay for the ticket of HK $ 250 and children (3-11 years) - HK $ 125.
Water Activities in Hong Kong
To pamper yourself daily dip in the pool, tourists should book a room at the hotel with a swimming pool, for example, in the "Marco Polo Hong Kong Hotel".
Guests are encouraged to visit the Hong Kong spa-salonThe Peninsula Spa - here they will wait a sauna, swimming pool, 14 rooms, which makes a range of treatments (massages - 1500 HK $ / 1.5 hours, Intensive facials - 1300 HK $ / 1hour; aromatherapy - HK $ 1200/1 hour).
Visitors can ride on the ferry StarFerry -he runs between Hong Kong and Kowloon (the trip lasts about 15 minutes; ticket for adults costs HK $ 2.5-3.4 for children - $ 1,5-2,1gonkongskih and tourist ticket, valid for 4 days, will cost tourists HK $ 25). It is worth noting that right off the ferry, you can enjoy the laser show "Symphony of Lights", if you can podgadat boat trip to 20:00.
Those who like to spend time on the beaches, arelook at the Repulse Bay (here you can soak up the sun with a stay on the sunbeds, use the barbecue to barbecue, play volleyball on the equipped areas, yachting, scuba dive, enjoy seafood delicacies in the nearby restaurants), Deep Water Bay (the bay is protected from sharks stretched mesh, and the beach is equipped with cafes, restaurants, rescue patrols), Sheko beach (year-round here, "the rage" rather big wave that is attractive for surfers; in addition, there will be interesting to fans of rock climbing and cook barbecue), Big wave Bay (although the big waves here - a rarity, it is still "occupied" surfers of all ages).
Photo