Where to eat in Hong Kong?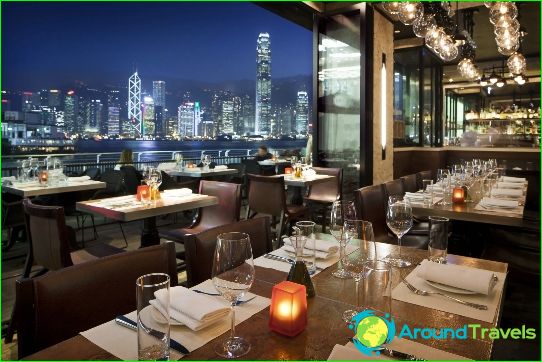 It is not necessary to worry about where to eat inHong Kong. Eat here you can in a variety of cafes, restaurants, food courts, street stalls ... It should be noted that in Hong Kong opened many schools of different levels, which serves traditional Chinese dishes, including Cantonese, Sichuan, Shanghai cuisine.
Where to eat cheaply in Hong Kong?
Budget can eat at a Chinese restaurantDelicious Kitchen - here you can treat yourself pork chops with rice, chicken, baked with lemon and sesame seeds, various soups, tofu with spicy-sweet sauce, lime mousse, caramelized bananas.
If you - a fan of Vietnamese food, cheapprices and delicious food await you in Nha Trang. Here it is recommended to try a salad with papaya, pancakes with various fillings and herbs casserole with vegetables and tofu.
Inexpensive meal to get Max Noodle - itrestaurant specializes in noodles. It is worth to try the noodles with shrimp, steamed vegetables with shrimp sauce, Chinese soup with ginger, transparent noodles with chili.
In Hong Kong institutions of self-service(The principle of "buffet"), you will have the opportunity to try all sorts of dishes at reasonable prices. So, visiting the Caf Too, you will be able to try the pizza, sushi, chicken curry and other dishes.
Where to eat in Hong Kong tasty?
Jumbo Kingdom: This floating restaurant, consists of a 3-storey ship, you can treat yourself as a classic Cantonese cuisine and seafood dishes and modern fusion style food. This institution is encouraged to try turtle soup, drunken shrimp, steam grouper, lobster salad. If after dinner you want to drink tea, you are prompted to move in the tea garden.
Glasshouse: This restaurant is located on the hill of Braemar, you will be able to escape from the bustle of the city and to try Tom Yum Kung (branded soup with meatballs of different kinds of fish on a complex broth of mussels, shrimp and scallops). In addition, here are preparing superb seafood and grilled vegetables.
Cuisine Cuisine: this restaurant is decorated in the original style, it offers no less extravagant menu. Here you can order the shrimp with crab meat and black truffle (the dish is decorated with black caviar and served with pumpkin soup).
Rainbow SeaFood Restaurant: This institution established aquariums, which inhabits marine life. If you wish, fish and other mammals get caught with a net and cooked any way you suggested. So, here you can enjoy grilled lobster, all kinds of clams, rainbow perch.
Gastronomic tours of Hong Kong
During such trips can be arrangedwalk to local shops and restaurants, where you will be able to enjoy traditional dishes. So, you can go on a gastronomic tour of the district of Sham Shui Po - here you will visit the store dishes made from soy, shop with traditional Chinese puddings, bakery Legendary Bakery, restaurants Braised Goose and Oodles of Noodles.
You can easily find food establishments withChinese food in any part of Hong Kong. And if your taste international cuisine, then this is not a problem - here you will find everything and European restaurants, and network facilities, such as KFC and McDonalds.
Photo