Zoo in Hong Kong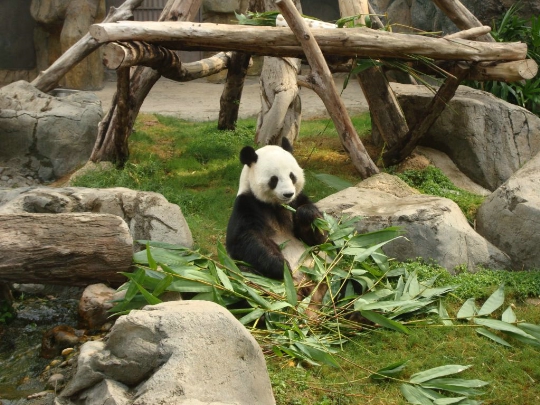 The first visitors were in one of the oldestzoos in the world back in 1864. Then it was the botanical garden, in which citizens enjoyed the flowering trees, and is dating staged Sunday family outings. Today, Hong Kong zoo covers an area of ​​5.5 hectares, located on the northern slope of Victoria Peak, and offers to get acquainted with amazing fauna of Asia and the unique plants, still carefully cultivated in the botanical garden.
Hong Kong Zoo and Botanical Garden
In the botanical garden of the Hong Kong zoo cansee more than 1000 species of various plants of tropics and subtropics. For biologists the name of the Hong Kong zoo - it is an opportunity to participate in conservation programs of rare species of plants, which are cultivated here or wood orchid Dawn redwood. Botanists are proud of and 20 bamboo species grow in the park, and visitors always admire blooming camellias, which are represented by thirty different varieties. In the piggy bank advances gardeners - 30 species of trees, five varieties of magnolias, including a rare purple, and a dozen different azaleas.
Pride and Achievements
The main wealth of the Hong Kong zoo - a hundredits inhabitants, including primates and reptiles, snakes and turtles. A small area of ​​the park does not allow to keep large animals here but admire the pink flamingos, red-crowned crane, Chinese alligators and pythons Burmese visitors can from early morning until late at night and free of charge.
How to get there?
Address Zoo - Albany Road, Central, Hong Kong.
It can be reached by bus from different parts of the city:
From Central - 3V, 12 and 13.
From Admiralty - 12A, 12M, 40M, 40R and 40.
From Causeway Bay- on 23B.
From North Point - 23.
From Lok Fu - 103.
Helpful information
Hours of different areas of Hong Kong zoo may be slightly different:
Garden Fountain Terras is open from 05.00 to 22.00.
Education and Exhibition Center Green House is open from 09.00 to 16.30.
Other expositions are waiting for visitors from 06.00 to 19.00.
A visit to the zoo and photo shoot - free of charge.
Services and contacts
For younger visitors built a playground in the park, while adults will be interesting memorial buildings, telling about the past world wars and participating in the Chinese military.
The zoo opened souvenir shops where you can buy cute little things with the symbols of the city and its attractions.
The official website of Hong Kong zoo - www.lcsd.gov.hk.
Phone +852 2530 01 54.
Pictures of Hong Kong zoo