Airports in Hungary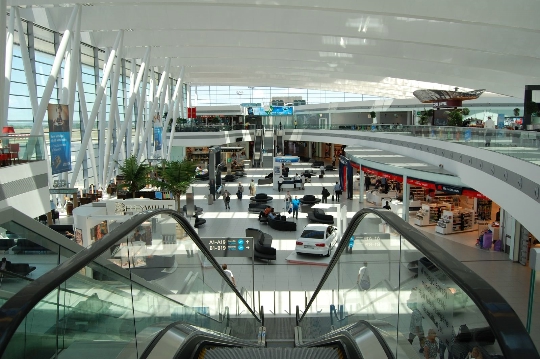 In Hungary, fly "on the water" - the whole countryIt is a solid resort and healing thermal springs beat here, literally, everywhere. From several airports Hungarian special significance for Russian travelers is the capital. It is committed to Budapest from Moscow daily regular flights of "Aeroflot". The journey time is 2.5 hours.
International airports in Hungary
Among the four Hungarian international airports status assigned to the three air harbor:
The capital is named after Franz Liszt. The city where the airport is located, attracted the attention not only for its baths, and plenty of architectural monuments. Budapest is considered one of the most beautiful in Europe. The official website of its air harbor - www.bud.hu.
Debrecen - a small airport in the east. It serves seasonal charters from Bulgaria, Germany, Turkey, Egypt and Greece, and the local low-cost airlines Wizz Air transports passengers from Debrecen in Bergamo in Italy, Eindhoven in the Netherlands, London in the UK and Malmo in Sweden. Details on the website - www.debrecenairport.com.
Heviz-Balaton - International Airport in the westcountry nearby Lake Heviz resorts. His only terminal receives seasonal and charter flights of Lufthansa, Czech Airlines, InterSky, Germanwings, Freebird Airlines, which can be reached from Frankfurt, Prague, Düsseldorf, Antalya and Zurich respectively. Consult timetables and services, please visit - www.hevizairport.com.
metropolitan area
Budapest Airport. Liszt is located 16 km south-east from the center of the Hungarian capital. Transfer to Budapest is carried out:
On the trains, following 2-3 times per hour to the West Station. Landing on the train is available in Terminal 1, and the time will not exceed half an hour on the road.
Bus 200E - the second way to get into town. He departs from Terminal 2 and goes to the metro station Kőbánya-Kispest. On the road it will take about 50 minutes.
Taxis are available from the special counter, where you can get a car and make a prepayment.
The departure waiting area at the capital airportHungary's currency exchange, snack, send mail to charge mobile devices, use the free wireless Internet access, and even to visit the museum a few minutes walk from Terminal 2.
Among airlines flying tothe capital of Hungary - "Aeroflot", AirBaltic, AirChina, AirBerlin, "Belavia", Brussels Airlines, KLM, LOT Polish Airlines. These planes fly from the UK, France, Germany, the United Arab Emirates and many other countries in Europe and the world. Transatlantic flights from Budapest makes Air Canada in Toronto and Montreal.
Dispersal field
Hungary Airport Trash in the village 9 km fromPécs receives seasonal charter flights from Burgas in Bulgaria and the Greek islands of Corfu and Zakynthos. Especially popular among the tourists do not use, but if necessary, information about its services can be found on the website - www.airport-pecs.hu.
Photo