The best restaurants in Budapest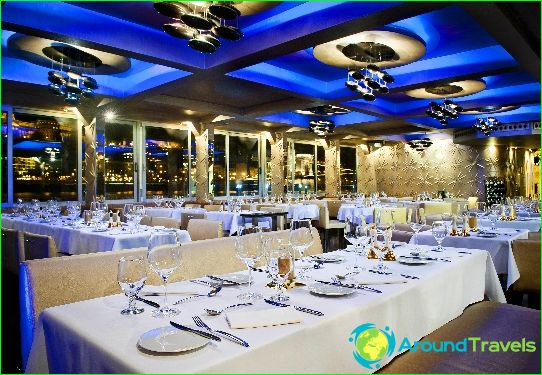 Serves traditional Hungarian cuisine inBudapest is not difficult. A large number of restaurants offering a choice of visitors not only a varied menu, but also an interesting entertainment program. The best restaurants in Budapest offer an unforgettable evening in a pleasant atmosphere under the melodious flute, piano, and even at all the singing waiters.
Retro-chic
Restaurant "Gundel" rightly bears the namebest city restaurants. Quality service and great food fully justifies the high prices places. Overall, the restaurant has a lot of advantages: a large hall; classic, retro furnishings; courteous staff; delicious food; the presence of the piano and robust antique furniture.
Popular dishes of the restaurant is the foie gras. Soups have obtained excellent local chef. Equally popular among visitors pancakes, served with a special "burning" sauce.
international flavor
«Taverna Rembetiko Piraeus» - an excellent restaurant serving Greek cuisine in Budapest. Famous for this institution for its exquisite seafood, especially salmon and tuna.
Tourists who are hungry for Chinese food,will like the restaurant «Tian Tan». It is the absolute hit of chicken baked in bamboo leaves. Here you can sample fried frogs and a variety of seafood dishes.
Another representative of the East - Restaurant«Al-Amir». East is not only famous for its meat specialties and sweets. Check all the culinary diversity of Syrian cuisine in this restaurant.
The unusual location of the restaurant «Citadella» intogether with an excellent entertainment program makes it one of the best options for evening entertainment. Musical concerts and performances take place here in the evening. They perfectly complement the evening with delicious meat dishes of local chefs.
Italian romance in Budapest
Huge selection of dishes has a restaurant menu«Sanremo». All dishes are prepared in strict accordance with traditional recipes. Here like and seafood lovers, and lovers of hearty meat delicacies.
The territory of the institution includes two sections. One of them is equipped with a cafe, in the other - a restaurant. Where you can spend the evening with the second half, or relax after a busy day.
Photo