Christmas in Budapest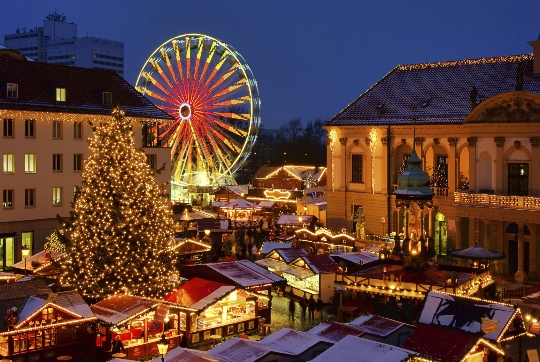 Noting Christmas in Budapest, you can plunge into the local medical sources, explore the city, to join the Hungarian traditions.
Features of the celebration of Christmas in Budapest
By the beginning of Advent (4 weeks before Christmas) houseto decorate using garlands, toys, tinsel, Christmas wreaths. Regarding the Christmas tree, its installation and decoration of Hungary is only on 24 December. At Christmas, the Hungarians clothe the priest's outfit and go home with his own hand-made feeders, to pay homage to the owners of the house by singing Christmas - Kantalash.
Before you sit down at the Christmas table,the prayer, then everyone starts to feast on fish dishes and sweet treats - poppy or walnut rolls. In addition, the table is traditionally exhibited garlic in honey and nuts. And after dinner, the hostess, as a rule, cut the apple - the number of parts corresponding to the number of people present at the table (a symbol of unity).
As for tourists, then they can be carried out Christmas tour of the city followed by dinner in the restaurant "Laci! Pecsenye ".
Entertainment and celebrations in Budapest
If you are interested in christmas event in the Hungarian capital, you should look at the following:
Boat trip on the Danube - there for you to lay a Christmas dinner and be entertained by live music;
Budapest Gypsy Symphony Orchestra (visitors will enjoy a gala concert, where you can enjoy folk, classical and gypsy music);
Christmas festival dances and songs at St. Gellért Square;
Christmas celebration at St. Stephen's Basilica (visitors will wait for hot delicacies and ice skating).
If you do not mind to spend time in the neighborhoodBudapest, you can enjoy operas and Christmas concerts on December 7-27 at the Christmas days in the Royal Palace of Godollo (still there guided tours for children and other interesting activities). In addition, you will have to wait for Christmas ball in equestrian park "Lazar" in the valley Domonveld (guests welcome cocktail, and at the end of the event - a gala dinner served to them).
Christmas market in Budapest
, It is recommended to go vacationing in BudapestChristmas Fair (held from late November until January 1) to the Vörösmarty square (here set the main tree): here you can not only get the people's costumes and wooden crafts, and enjoy roasted chestnuts and flour products, as well as attend the gastronomic competitions and theatrical performances . In addition, in heated halls for all who wish to will be able to create your own Christmas decorations.
Photo