Budapest Viewpoints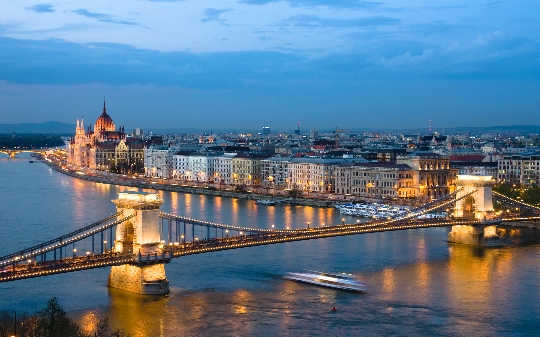 Going up to the observation deck of Budapest? From the height you will be able to admire the Andrassy Avenue, the building of the Academy of Music, Park Városliget, named Kodai area of ​​Margaret Island ...
The observation deck at the Ferenc Liszt Airport
To get there it will be possible, up to the 3rd floorTerminal 2a - from the site can be seen passengers on board incoming, takeoff and landing aircraft. Before the entrance to the observation deck you must buy a ticket (the cost - 400 HUF) in the machine (instructions on how to use you will find on the side) .Stoit noted that the site is sometimes closed to the public, for example, while waiting for the arrival of political delegations.
Location: Located 16 km from the center of Budapest (from the center to the airport buses go number 200E, 950, 914)
Fishermen's bastion
On the territory of the bastion you can see the monumentIstvan I, and the sculpture of St. George and its viewing areas visitors will be able to admire the Danube, the Hungarian Parliament and the whole Pest side of Budapest. In addition, the walls of the bastion can get souvenirs and listen to live music. Useful information: to visit is open around the clock and every day, the exception - the upper level (depending on the season, access is open from 09:00 until 18-19: 00); adult ticket costs 700, and children from 6 Fly students - 350 forints.
How to get there? Before stopping Donatiutca bus number 16 (address: Szentharomsagter 5, link to the site: www.fishermanbastion.com).
Gellert Hill
As one of the best lookouts(Explore local beauty can be through telescopes installed at the top of the monument of Freedom - it needs to pay 50 forints), it offers guests to enjoy the view of the Danube, Margaret Island, the Buda Castle. Here, on the mountain, you can see the 40-meter monument of a woman and a citadel (the construction of the 19th century), and at the foot of the mountain - to visit the pool. And as Gellért Hill is a large park, flock here still to actively spend time.
How to get there? From Moricz Zsigmondkrt area can be reached by bus number 27.
St. Stephen's Basilica
Cathedral in neo-Renaissance style (as decorationits windows are the stained glass windows depicting saints), a height greater than 95 m, has an observation deck (depending on the month open from 10:00 until 16: 30-18: 30), from where you can contemplate the whole of Budapest. In addition, guests are recommended to visit the museum and at the organ concert (duration - 70 minutes, the price - 15 euros). Information on prices: adult ticket - 1600 HUF (entrance only on the dome - 1100 HUF); ticket for pensioners and students - 900-1200 HUF.
Address: Szent Istvanter 1.
Photo