Shops and markets in Budapest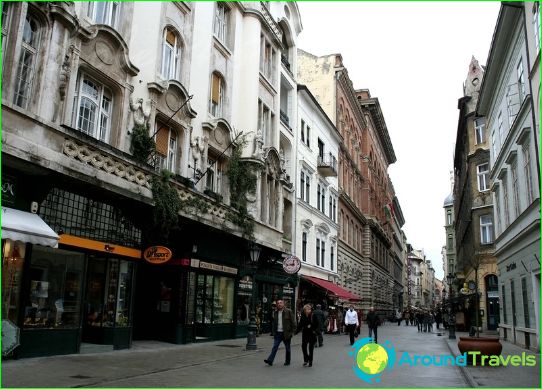 In recent years, Budapest has undergone rapiddevelopment of trade, there were shops of famous international brands, shopping centers. Although many tourists say that the shops in Budapest are often trimmed collection and model they are not for the current season, indulge in jogging shopping is not worth it. Six major Budapest markets continue to attract customers fresh products and all sorts of Hungarian delicacies. A vintage lovers do not need to talk about the benefits of Budapest antique shops and flea markets.
Vaci Street and adjacent streets
The most famous shopping area of ​​the city - it is hispedestrian mall - Vaci Street and extending perpendicularly from its streets. The northern part of Vaci utca starts from Vörösmarty Square, extending to the Elizabeth Bridge and beyond its southern part ends in the central market.
On Vörösmarty Square is a cultGerbeaud Confectionery. Sweets it made according to old recipes. Despite the fact that his fame confectionery acquired during his democratic prices now for the Hungarian marzipan from Gerbeaud have to fork out.
In the northern part of Vaci Street you will find boutiquesdemocratic type Benetton brands, C & A, H & M, ZARA, and a large number of Hungarian companies. Multi-brand shopping centers represented West End City and the Duna Plaza. The first of them is almost the largest and most modern in Hungary. In this part of the street are branded shops of the Hungarian porcelain factory and Zsolnay Nerend.
In the southern part of Váci are predominantlyart salons, antique and souvenir shops, atelier tailoring. Nearby is the famous antique gallery named Stephen Choka. Even if you are not going to buy anything here, it makes sense to go and admire the objects of Russian and Oriental art, paintings, icons and porcelain.
Indoor Central Market - the most beautiful and the mostlargest in the city. Its roof is covered with multi-colored Zsolnay tiles and worthy of careful study. Here you can buy Hungarian specialties - sausages, cheeses, lángos (cake made of fried dough) and a traditional sauce to it.
If you enjoy luxury shopping, you on Fashion Street. In fact, this section of the street Feretsa Deak, consisting of several old buildings. Located near the Vaci Street.
Antiques
It seems that in Hungary do not throw things, even after they have served their time, or their owners are tired. Otherwise, where such a variety of antique shops and flea markets?
Falk Miksa Street - Quarter antique shops. It and the surrounding streets of more than 20 shops of different sizes and different orientation on the range. Selecting large silver here and stuff, and home furnishings and paintings with carpets, jewelry and ceramic vases, old heavy bells, dolls, and much more. Local traders are experts in antiques, and in sales. Combining these shops on the same street there after the example of Western countries in Budapest realized that combining the antique shops in one place, they will increase sales. Auction bids, from time to time to arrange in Budapest, also increase the interest of buyers to the old days.
Market Esker Piak - another tidbit forhunting for antiques. This is a huge market that is comparable to the flea markets in London and Paris. The owners of shops with Falk Miksa often happen here. The market is open on Saturdays in the morning and does not depend on the weather, as it is covered.
Bibliophile like Central secondhand bookshop, which is located opposite the National Museum of Hungary. In addition to its diverse modern literature, there is an antique department.
Photo shops in Budapest