Taxis in Budapest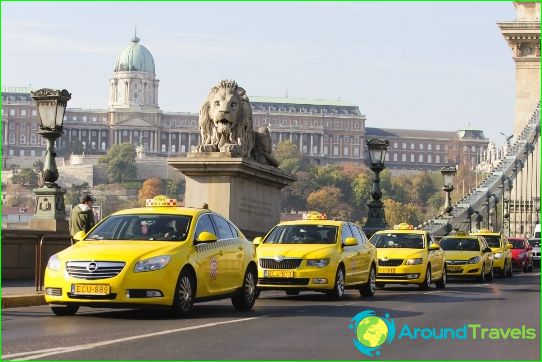 Taxis in Budapest - cars equipped withglowing yellow sign "Taxi", signs and yellow license taximeter, print a check at the end of a trip (to find a price list with the prices you can near the dashboard or on the glass door).
Taxi services in Budapest
Stopping the car on the streets of the Hungarian capital is not accepted - it is advisable to call them on the phone (after the call, the machine will arrive after a maximum of 7 minutes).
You can ask the hotel employees that they causedfor you a taxi or make a call yourself. In this case, come to the aid of known phone numbers of companies (when you order, you can get information about tariffs, and at what price may do a trip to a specific place): Radio Taxi: + (361) 3777777; Budapest Taxi: + (361) 433 33 33; CityTaxi: + (361) 211 11 November; 6-6 Taxi: + (361) 2666 666. In all of these companies employ dispatchers and drivers, speaking in English.
In addition, the search for a taxi you can go toNumerous parking lots are located at the w / e and bus stations, close to shopping centers and famous tourist attractions. It's worth noting that if you take the car, standing in hotels, theaters, restaurants and other places of entertainment, should be prepared for the fact that pay for the fare you have to premium rate. And taking the car at the airport, at your disposal will provide cars with plenty of space for luggage - all three terminals runs society "Zona Taxi" (payment is made at fixed rates).
The cost of a taxi in Budapest
Like many travelers, you will surely interested: "How much is a taxi in Budapest?" Check out the tariff system in force in Budapest Taxi:
landing with passengers on the daily rate charge of 300 forints, and the night - 420 forints;
overcome one km in the daytime costs HUF 240 passengers, and at night - at 338 forints;
easy (wait and promotion at a speed less than 15 km / h) on the day rate charged for the price of 60 HUF / 1 minute, and at night - 85 HUF / 1 minute.
It is worth noting that for a call by phone cars, as a rule, not an extra charge (exception - the order with special requirements).
On average, the trip from the airport to the center of Budapest costs HUF 5000-8000.
If you see that the taxi is equipped with a terminalfor receiving the card, to pay for the trip if you want you can bank card, but first should check with the driver is OK if the device and see if you can pay the fare in this way (if there was a desire, the driver can be left at "tea" 10% of the total bill) .
Guests of Budapest should take note: the city and its immediate suburbs convenient to travel by taxi.
Photos Taxi in Budapest