Sightseeing in Budapest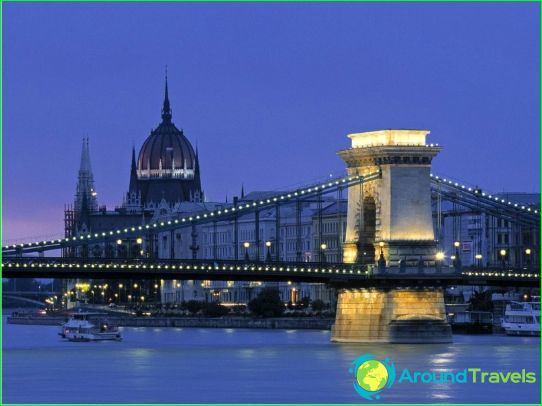 Budapest, capital of Hungary, attracts manypeople who dream of holding special travel. All tours in Budapest are interesting and rich, let you see the beauty of ancient architecture. However, some programs deserve the most attention of tourists?
Popular excursions in Budapest.
Sightseeing tour. All sightseeing tours in Budapest conducted by car or bus with an experienced guide. It is an opportunity to visit the Heroes' Square, walk next to the Buda Castle, the Royal Palace, Castle Vajdahunyad, St. Stephen's Basilica, the Citadel, Fisherman's Bastion and Gellert hill, many old bridges. Maximum duration of the program is three hours.
Excursion to the Parliament of the Republic of Hungary. At present, the Parliament building is the largest and one of the most beautiful objects in Hungary. This attraction offers the best in architecture. Particularly impressive Gothic towers and stone decorations made in the baroque style, with mosaic stained glass windows. Each tourist can see the royal regalia and crown.
Excursions to museums. Budapest is famous for the Museum Center: Fine Arts Museum, the Transport Museum, Budapest History Museum, National Museum, National Gallery. An experienced guide will necessarily tell you about the best exhibits, so the program will please its own saturation. Admission to each museum is from 3 to 5 euros.
Thermal Bath in Budapest attracts manypeople, because this type of holiday can restore strength and understand how prefer to spend their free time the residents of Hungary. It is important to bear in mind that you can not visit the spa bath at an elevated body temperature, blood pressure, heart failure, epilepsy, tuberculosis, cancer, inflammation of the veins and pregnancy. All other visitors can enjoy a stay in the sauna and jacuzzi, a dip in the outdoor swimming pool.
Excursion to the stalactite cave Palvёldi. An experienced guide will explain the features of the stalactite caves that delight tourists beauty.
Visit the "Côte d'theater" - a unique opportunity to see an unusual sound-light show, which is held on Wednesdays, Thursdays, Saturdays in the planetarium.
You can spend your time in Budapest, interesting and rich, because a variety of excursions for a truly surprising!
Photo tours in Budapest