What to do in Budapest?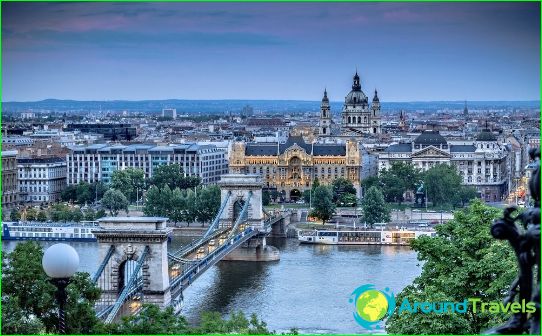 Budapest - one of the most beautiful European cities, famous museums, historical and cultural attractions, bridges, picturesque waterfront.
What to do in Budapest?
To visit the Buda Castle and are heremuseums - the National Gallery and the History Museum (the castle was built on Castle Hill, next to which is the Royal Palace and the Fishermen's Bastion);
Visit Margaret Island (there are 2 hotels, restaurants, cafes, beach "Palatinus", a Japanese garden and a summer theater in which are held theater productions);
Climb on the Gellért Hill, on which theset high statue (the mountain - it's a big park, which shows the entire flora of Budapest) to see the panorama of the city, the Wax Museum, Cittadella fortress, sit in a cafe or restaurant;
See the famous Chain Bridge (it is decorated with beautiful statues of lions, and the railing of the bridge - a skillful ornamentation).
Things to do in Budapest?
Upon arrival in Budapest it is advisable to buydiscount card with which you can discount travel on public transport, to visit museums, amusement parks and other cultural institutions of the city.
To get acquainted with Budapest andproviding easy access to the main attractions, you should use public transport - the city runs a lot of buses and trolleybuses. If desired, for this purpose, you can rent a car. To use this feature, you will be asked to present a guest card, which you will be given at the hotel. Also, your age should be at least 21 years.
Nature lovers can go for a walk inVárosliget park. In addition to walking, here you can go to the Botanical Garden, Zoo and Museum of Fine Arts (all located inside the park). Excellent to spend time with your family can be at the City Park in summer you can take a boat ride on the lake, and in winter - ice skating. Because nearby there is a circus, a zoo and an amusement park, you definitely need to reduce children.
Children should be going to the gardens to please Karolyi: this park has playgrounds that are running slides and swings. The whole family should go and Aqua Park: here are swimming pools (and wave pools for surfing), slides, children's playgrounds and volleyball.
Fans of noisy night life funspend time in Capella nightclub features several bars, dance floors, rooms for VIP-guests. And young people will be able to break away in Alcatraz club - it is famous for great music, a rich entertainment program and an excellent bar where you can taste not only classic but creative cocktails from the bartender.
Going on holiday in Budapest, youget acquainted with its magnificent palaces and temples, will be able to enjoy its wonderful nature, swim in the hot springs (in Budapest is 26 baths: "Sections", "Király", "Gellert").
Photos where to go in Budapest