Where to eat in Budapest?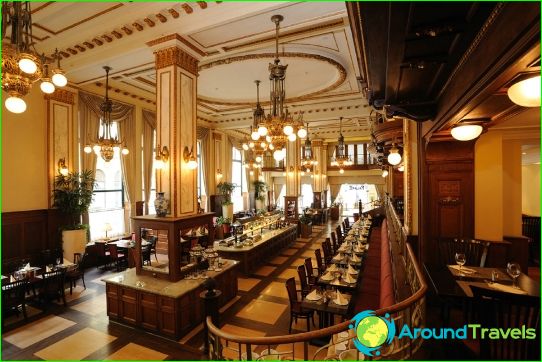 Thinking where to eat in Budapest? In more than 3,000 institutions of the city, you can taste Hungarian dishes and international cuisine.
Hungarian dishes flavored with paprika: be sure to try the Hungarian goulash soup with beef, onions and potatoes, paprika chicken, carp, Bugajski, Hungarian sausages. As for desserts, the local establishments you can enjoy strudel, Esterhazy cake, puff pancakes.
Where to eat cheaply in Budapest?
Budget meal in the bistro can Ket Szerecsen(With a glass of Tokaj wine, you pay 3 euros, and for the fried chicken breast with yoghurt, lemon and salad - € 7), Paprika restaurant (goulash soup with dumplings is worth about 3.5 euros, goose liver Hungarian - € 12) , Lizard restaurant (pork medallions Hungarian cost about 8 euros, goulash soup - 3 euros), Cafe Pausa (Hungarian fish soup costs 4 euros).
Where to eat in Budapest tasty?
Gundel: This restaurant, in addition to all kinds of salads, meat and fish dishes, you can enjoy a specialty - palanchiken (pancakes stuffed with cheese, nuts, chocolate or vanilla sauce). These pancakes are about 7 euros.
Costes: This restaurant, awarded a Michelin Star, you can try dishes from the tasting menu - salmon, cooked a special recipe, duck liver, dessert of pears with cream, chocolate and ice cream, as well as other delicious dishes.
Menza: this place is famous for its traditional Hungarian dishes, slightly modified by local chefs, as well as a variety of Hungarian wines and other countries.
Gastronomic tours in Budapest
Gourmets and lovers of good food canto go on a gastronomic tour of the Hungarian capital. As part of the tour you can visit the culinary school in Budapest - an experienced chef will tell you about the history of food and reveals the secret of some of the traditional recipes, as well as teach you to cook 3-4 Hungarian dishes. At the end, you will personally cooked dinner (previously you with the chef will get food for dinner at the Central market of the city).
You can take a cruise on the Danube, if desired - on the boat will be waiting for a romantic dinner and live music.
In Budapest, you can come to the gastronomicFair "Tastes of Hungary" - here you can not only taste and buy honey, homemade cheese, ham, chocolate, wine, dried fruit, but also take part in handicraft workshops and other recreational activities.
On vacation in Budapest you can see the cathedral and castle, take a dip in the famous baths, many of which are curative and serves national cuisine.
Photo