Zoo in Budapest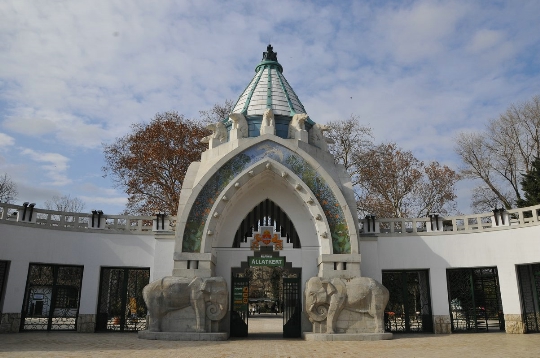 Opened in 1866, the zoo in Budapestat first a little surprised the visitors - his lodgers were only familiar to Europeans animals. Elzbieta Empress, was keenly interested in the affairs of the zoo decided to rectify the situation, and its efforts giraffe first appeared in the park. Austro-Hungarian Emperor Franz Joseph did not remain on the sidelines and three dozen exotic animals arrived soon take up permanent residence in the menagerie of the Hungarian capital.
Budapest ZOO and Botanical garden
Full name of Budapest Zoo includesthemselves and mention of the Botanical Garden. In addition to hundreds of species of animals on its territory are a variety of plants found on all inhabited continents.
Palm Pavilion is alternating withclimatic zones of the planet Earth and shows the atmosphere of the Amazon jungle and Australian deserts, tundra and polar humid African forests. Walking through the pavilion can be free, while contact with the colorful butterflies, birds and tiny monkeys are delighted both children and their parents.
Pride and Achievements
Zoo workers in Budapest are particularly proudJapanese bonsai garden and the aquarium, which recreates the atmosphere of the coral reef. Kids like to stroke these rays, which began during the stay in the new aquarium quite tame.
How to get there?
Zoo Address: 146 Budapest, A llatkerti krt. 6-12. You can get there:
On yellow line M1 metro to stop "Széchenyi Fürdő". Then a couple of minutes walk on the signs.
On the bus 72 to the stop "Állatkert" and 75 to stop "Gundel Károly út"
On bus routes 20E, 30, 30A, 105 and 230 to stop "Hősök Tere"
Opening hours and prices
Opens Budapest Zoo in 0900, but the schedule of closing depends on the time of year and day of the week:
In the period from November to February inclusive - in 16.00, regardless of the day of the week.
In March time becomes longer and the details of the schedule is best to clarify the official airport website.
The box office do not work for an hour before the closing of the park. 24 and 31 December last visitors leave the zoo in 13.00.
The price of a ticket depends on the age of the guests:
Adult - 2500 HUF.
Children from 2 to 14 years - 1800 HUF.
Student - 1900 HUF.
Family 2 adults and 2 children - 7300 HUF.
Groups of 10 people or more for adults, children and students - 2000, 1300 and 1400 HUF per person respectively.
To reaffirm the right to benefits, you should carry a document with a photo. Children under 14 unaccompanied by an adult to the zoo is not allowed.
Services and contacts
Free parking is available on site at the zoo is not great, and find a place can be difficult. Are kindly requested to use the parking area in the southern part of the Heroes' Square near the zoo.
Official Site - www.zoobudapest.com.
Inquiries by phone +36 1273 4900.
Budapest Zoo Photo