Budapest - Hungary's capital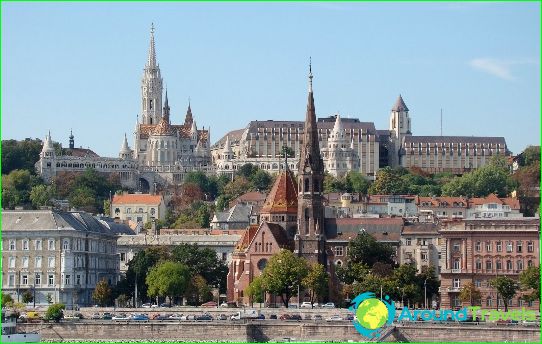 The capital of Hungary, Budapest, was formed bythe merger of two small towns situated on opposite banks of the majestic Danube: Buda and Pest. Hence its name. List all the attractions of the city is simply impossible, so a lot of them. The easiest way to visit him and see everything with your own eyes.
Fishermen's bastion
A beautiful building with a very interesting architecture. A distinctive feature is the color - Fishermen's Bastion was built entirely of white stone, which gives it an unusual appearance.
In the Middle Ages this place was occupied by a hugeFish Market. Fishermen were extremely interested in protecting the place. The building was built in 1897. Bastion is an area with galleries, and the center is decorated with a statue of St. Stephen, the first king of Hungary.
Buda castle
The history of the fortress from the 13th century begins. It was then that the Hungarian ruler Bela IV gave the order to begin construction of the citadel on the banks of the Danube. She was supposed to protect the country from attacks of Tatars. Later, around the castle formed a settlement, which became eventually the big city. And the fortress itself has turned into a residence of kings.
Holy Trinity Square will be especially interesting,where the Plague Column. While here, be sure to check and Matthias Church, built in the best traditions of gothic. That many were crowned Hungarian kings in its walls.
Heroes Square
The area deserves careful examination. This is one of the most popular tourist destinations in the city. The area is decorated with several large monuments: the column, the top of which is crowned by the figure of the Archangel Michael; pair colonnades with sculptures depicting the heroes of the country; memorial plaque dedicated to all the soldiers ever killed in the war.
St. Stephen's Basilica
The Basilica is located in part of the capital, formerlythe city of Pest. Go to the area of ​​St. Stephen's and enjoy a magnificent structure. By the way, the cathedral - one of the tallest buildings of the capital. The second was the building of the Parliament.
Construction of the cathedral lasted in '54 under the control of successive architects. Creator of the project was József Hilda continued the work - Miklós Ibl, and finished - Jozsef Couser.
Vajdahunyad Castle
The castle is a replica of TransylvaniaBastion rulers of Hunyadi (13th century), and has a remarkably beautiful location - Városliget park. 1896 - the year when it was decided to build a castle. The project included the best elements of the most famous architectural structures in Hungary, like Corvin castle or fortress Shegeshvara.
Hungary - hot springs
Photo