Christmas in Hungary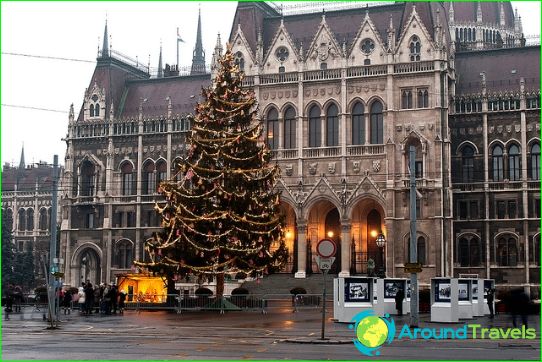 What the average person knows about Hungary? Perhaps that was born there goulash, czardas and Imre Kalman. In fact, it is surprisingly interesting, unique country, where people know how to have fun. Christmas in Hungary - a great idea to make a vacation memorable and original.
Carp on luck
Dozens of delicious and hearty dishes for ChristmasHungarian table - it is a symbol of generosity and abundance in the coming year, and another reason to gather family and plenty of fun. After all, for Christmas in Hungary necessarily fed carp! It is believed that a few flakes of Christmas fish are able to provide material well-being to those who will wear them all year round in your wallet.
Christmas capital - a sea of ​​lights, smartChristmas trees, festive illuminations. At this time, it looks especially beautiful area of ​​the Holy Trinity and the Church of St. Matthew. An excellent walk on Christmas night will be an excursion to Fishing Towers. View of the Danube and the colorful city staggering.
Christmas souvenirs worth buying in theVamhazkrt. Budapest district with the unpronounceable name - a paradise for shopaholics. Relax and refresh yourself before the Christmas dinner can be in the confectionery Gerbeaud, Vorosmarty ter that area. One hundred years of local bakers are transmitted from generation to generation the recipe pastries, which are a symbol of the old city.
Bathing in the winter? In Hungary, everything is possible!
Christmas morning can be done in different ways. Make a few photos in the family album. Go for the three most beautiful bridges that hobble rebellious Danube Chain, Green Bridge of Liberty and the White hanging bridge Elżbieta. But holidays in Hungary in the winter and so different that it is possible to reconcile the irreconcilable. For example, to warm their bones in the warm baths in the open air. Thermal water lapped warm, wash away tiredness and mood for an active way.
Going for Christmas in Hungary LakeHévíz, it is important to throw in your suitcase swimsuit. Unique lake has no analogues in the world. In January, the water warms up to 23 degrees, and the Romans liked to relax here from the madding crowd.
Holiday program for guests includesa tasting of famous Hungarian wines in the cellars of the Count, dance with folk ensemble, chat with Hungarian thieves, who take on the role of toastmaster, and a grand fireworks display over Heviz.
Hungary is like a kaleidoscope: it is bright, cheerful, unpredictable and exciting, and happy atmosphere and friendly hugs accompanies the traveler in every corner of it.
Photos of Christmas in Hungary