Traditional cuisine of Hungary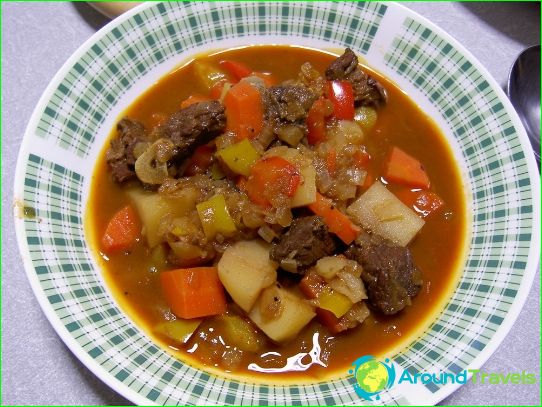 Food in Hungary is characterized by the fact that incountry, everyone will be able to find food for every taste. Going on holiday in Hungary, it is worth considering that in Budapest the cost of food is higher than in other cities.
Food in Hungary
Diet Hungarians make up fish (carp,sturgeon, pike, catfish), vegetables, meat (pork, beef, chicken), dairy products (cottage cheese). The Hungarian cuisine uses a considerable amount of sweet green pepper, tomatoes, paprika, onions.
Many Hungarian dishes are a distinctive feature is the combination of the first and second. For example, you can taste the unique food - goulash soup.
In Hungary, be sure to try lecho;mushroom soup (vadgombaleves); cabbage rolls (Toltott kaposzta); foie gras; pork steak and cabbage (pecsenye); pancakes stuffed with meat, raisins or jam (palacsinta); roast goose leg (sult libacomb); roll filled with minced meat (szuz tekercsek).
A sweet tooth will be delighted by biscuit-chocolate dumplings with whipped cream in shomloyski, cake "Esterhazy", caramel and chocolate cake "Dobos".
Where to eat in Hungary? At your service:
Fast food restaurants (KFC, Pizza Hut, McDonalds, Burger King);
cafes and restaurants of the Hungarian and other cuisines;
rustic restaurants (here you can taste the national Hungarian dishes in an authentic atmosphere).
Drinks in Hungary
Hungary is a popular drink tea, wine, beer, pálinka (fruit vodka, which is used for the production of plums, grapes, apples, pears, apricots).
From local beers worth trying Dreher,Szalon, Arany Aszok, Soproni, Borsodi, and of import - Pilsner Urquell, Staropramen, Budweiser Budvar (the local shops and bars offer to purchase imported beer is almost the same price as the local varieties).
In Hungary, at a reasonable cost, you can buy wine and - here you will find Tokay and wines produced in the area of ​​Szekszárd, Pécs, Eger.
Gastronomic tour in Hungary
Embark on a gastronomic tour of Hungary,you will constantly discover new and new flavors, as goose liver, fishing ear, shepherd's soup and other dishes prepared in different regions of the country, will have a completely different taste sound.
In Hungary should arrive in October - at this timehere are gastronomic festivals "Days of Wine", during which you will be able to taste local wines and snacks to take part in the selection of the Queen of wine and costumed balls, go to concerts of live music and enjoy the fireworks.
Arriving in Hungary - the country of gingerbread houses, baths and wine cellars, you can taste the original national cuisine.
Photos national Hungarian dishes