Holidays Hungary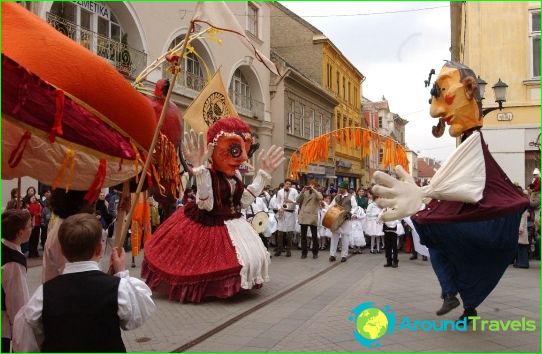 Hungary - surprisingly attractive country. Here harmoniously coexist spirit of medieval and modern culture. But not only this country attracts, Hungary holidays also are unique.
"Bull's Blood"
Be sure to schedule a visit to the smallthe town of Eger, in the north of the country. There goes the world-famous wine festival. Every year many tourists come here to appreciate the taste of local wines and enjoy the sights of Eger.
We have to start the holiday on the second Fridayof July, and it lasts for three days. Dobo Square and Széchenyi Street are a kind of small restaurant under the open sky, because this is where winemakers and chefs offer guests a variety of goodies to eat. Name the holiday gave Hungarian wine "Bull's Blood", and it is dedicated to the patron saint of winemakers, St. Donatus.
All guests of the festival issued a special glass, which gives the right to evaluate the taste of 100 mL. each represented by a drink for free. But at the same time the entrance to the festival will have to pay.
Sziget Festival
The grand musical evening in the openair lasts a week in July. On the Obuda island became a place of its carrying out, try to get about 400 thousand admirers of music from all over the world. In particular, a lot of guests here from Germany and England.
Sziget attracted so manyGuests of its versatility. Metal, Electronic, Hard Rock, DJ sets - it is only a small fraction. In addition to numerous concerts, festival visitors can try their hand at sports, go to the cinema or theater, to participate in the discussion. In short, life here is in full swing!
Like any party (even on the same scale) Sziget is not without alcohol. The most popular palinka - national fruit vodka. Served it exclusively in shots.
To plunge into the world of the festival,it is recommended to buy a ticket that gives the right to reside in the camp. Do not worry about the likely inconvenience because event organizers have thought through every detail. On the territory of the festival are working post office, pharmacy, laundry facilities and ATMs. In case of emergency physicians is organized around the clock, and for the child, if necessary, you can hire a nanny.
St. Stephen's Day
His main holiday the country celebrates 20 August. On this day in 1000 to the throne of her first king - Istvan, left a posterity only good memories. Particularly bright and spectacular celebrate in Budapest. The city hosts theatrical performances, fairs and performances.
Photo