Cuisine of Hungary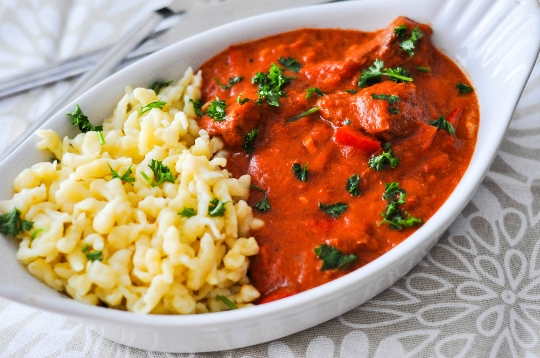 Want to know the difference between food from Hungaryother European cuisines? This difference lies in the huge variety of products used to prepare meals. In addition, some foods combine both the first and second course.
National Cuisine of Hungary
Traditional dishes are prepared with beef,poultry, beef, pork, venison, Balaton pike-perch, catfish Danube, eggplant, zucchini, tomatoes and other vegetables. As for fish dishes, then they are usually served as a side dish to noodles flavored with bacon and cheese. The national cuisine honorable role assigned goulash - this dish in a thick beef soup with potatoes and onions. Individual attention, condiments and spices: in Hungary in favor paprika, black pepper, celery, thyme, cumin, marjoram.
Popular Hungarian cuisine:
"Hungarian lecho" (a dish, which is based on paprika, smoked sausage, onions and tomatoes);
"Halasle" (Hungarian ear, for which preparations are used river fish);
"Lángos" (cake made of yeast dough, which is fed to the cheese, sour cream and garlic sauce);
"Fezelek" (soup with onions, potatoes, tomatoes, sweet red peppers, lentils and cabbage);
"Chicken paprikash" (fried pieces of chicken that stew with onion, capsicum, chicken broth and garlic);
"Retesh" (Hungarian strudel: filling it is not only sweet, but also mushroom, fish or meat).
Where to try the national cuisine?
Going to Hungary? Be sure to visit the restaurants specializing in national cuisine. If you are interested in simple and homemade Hungarian food, then it is advisable for them to go to traditional restaurants called "Tavern."
Holidaymakers can look in Budapest"Paprika" (specialized institutions - the Hungarian and East-European cuisine: here it is recommended to try the beef with cream sauce, and enjoy free Wi-Fi) or "Gundel" (it is recommended to eat specialties gundelevskimi pancakes) and Debrecen - in "Csokonai Sorozo "(you will be advised to try the goulash, paprikash, halasle and other hungarian dishes).
Cooking Courses in Hungary
In Budapest wishing to learn how to offercook some Hungarian dishes on cooking classes in the "Chef parade Cooking School", "Culinary Hungary Cooking Class" or "Chef parade Chocolate and Dessert School". As for the sweet tooth, they can enjoy the culinary master class in the confectionery Szamos.
Tourists will surely be interestingattend in September (Budapest) at the Festival of chocolate and sweets (serves feast factory and sweets handmade and attend master classes and performances by music groups), in November (Szolnok) - Festival of goulash in February (Budapest) - on fish festival.
Photo