Drinks Hungary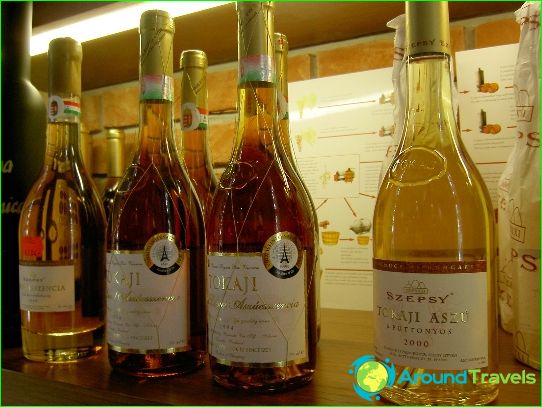 This European country, even in the long erasocialist nothingness was special. In Hungary, it was difficult to get there, but the lucky ones who managed it back under the influence of czardas, goulash, operetta and magnificent views of Budapest. Drinks Hungary took in travelers tales a special place because of wine, equal to local Tokay, it is difficult to find around the Old and the New World.
Alcohol Hungary
Hungarian Customs rules allow rathera large volume of duty-free imported alcohol in the country. For the importation of spirits set the rate of one liter for liqueurs - two liters and 16 liters - of beer of any sorts. Out of the country can be no more than a liter of hard liquor without paying duties. The rest of the alcohol must be removed Hungary in the amount of one liter of wine, five liters of beer. The price of drinks seem quite pleasant Russian tourists: excellent quality wines from 3-5 euros per bottle, and beer and all for less than one euro, if you buy the package directly (data for 2014).
The national drink of Hungary
Among the special attractions of the Hungarianallocated kitchen, where in due esteem - hot spices, herbs, high-quality meat and fresh vegetables. A nice addition to any feast is the national drink of Hungary, the fame of which has moved far beyond its borders.
Unicum liqueur produced more than two hundred yearsZwack family-owned company, and the secret of its preparation is strictly preserved and passed down from generation to generation. We only know that in the liquor included at least four dozen herbs and raw materials kept in oak barrels. For the first time Unicum was prepared for the Emperor Joseph, who by his ecstatic shouting, and gave the future national drink of Hungary name.
Hungary Alcoholic drinks
Among the national beverage stand andTokay wine. They got the name from the mountain range Tokai, located in Hungary, and Slovakia, and in the valleys which specific grape varieties grown for the production of the famous beverage. Tokaj wine is made from grapes of light and a special taste of honey and raisins and extraordinary color allow the Hungarians call their "liquid gold". The main types of wine:
Tokai native.
Essence of zaizyumlennogo Tokaj grape.
Tokai-ace insists to 10 years.
The region, which produces wine Tokay is protected by UNESCO as a world heritage site.
Hungary Alcoholic drinks - this excellent dry wines, particularly red "Bull's Blood" and gold "Badacsony Riesling."
Photo