Shopping in Hungary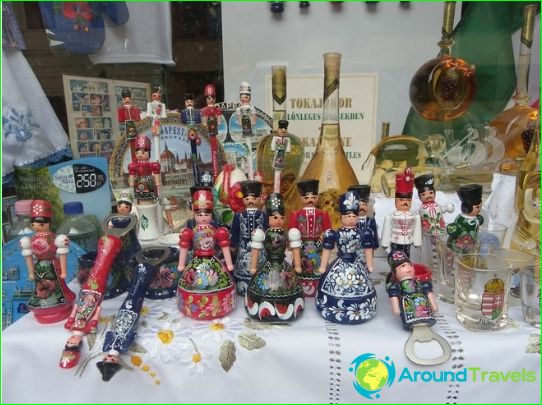 Holiday in Hungary remembered to you fine wines, delicious and hearty cuisine, incendiary dance - czardas, luxurious china and national wooden toys.
Deli
To go shopping "on an empty stomach," start with edible gifts. In Hungary, it is sausages and bacon in Hungarian, all kinds of sweets and alcoholic beverages.
In the world famous Hungarian salamiPick. With ginger and red pepper, smoked, this delicacy will adorn the holiday table, and will come in handy to fans of fishing and hiking. Available in the packaging in the colors of the Hungarian flag. Salo Hungarian - rolled in paprika homemade lard acquires spicy taste. Very thin slice of fresh rye bread or toast, no matter how blasphemous it sounds, perfectly combined with the Hungarian Tokaji Aszu, prepared with the addition of juice from grapes affected by noble rot. It is popular red wine Egri Bikaver ( «Bull's Blood"), almost black balm Zwak Unicum cherry or peach and fruit vodka "Palenque". Gourmets can enjoy a foie gras, housewives useful paprika varying degrees of severity and in very different dishes - pouches, jars and bundles of whole peppers.
National Hungarian delicacy - marzipan massof powdered sugar and almonds. In the town of Szentendre near Budapest's famous marzipan museum. In it you will see the "sweet art" - flowers, figurines fairy-tale characters, the objects of interior. Next to the museum there is a souvenir shop where you can buy delicious beauty. You can safely buy marzipan for the future - they are stored even for several years, they do not spoil and do not lose their properties, they are also sold in all supermarkets.
Popular shopping
Embroidered embroidery napkins, tablecloths will adorn the holiday table, and shirts and scarves - favorite part of the wardrobe. The embroidery is widely used "pepper" and floral motifs.
In Hungary, producing a well-known since the early 19century hand-painted Herend porcelain brand. Gift expensive but worthwhile. A service purchase optional, you can buy a figurine or a couple of tea. A more democratic and costs utensils from black ceramic, traditional pitchers in a cowgirl sold at any souvenir shop.
It is worth paying attention to leather goods - bags, raincoats, jackets, belts, they are very good quality.
In the most famous in Hungary Ecser flea marketYou can buy old books, decorative items, vintage things. Small souvenir shops you'll find lace, dolls in national costumes, crystal and more. In large malls you can buy everything - from salt to household appliances. During the sales prices decreased in two or three times.
we can meet the «Tax-Free» icon Some stores. VAT refund you can get to the train station or at the airport, if the amount of the check is greater than 220 dollars.
Hungary - hot springs
Photos of Hungarian products, stores and markets