Tourism in Hungary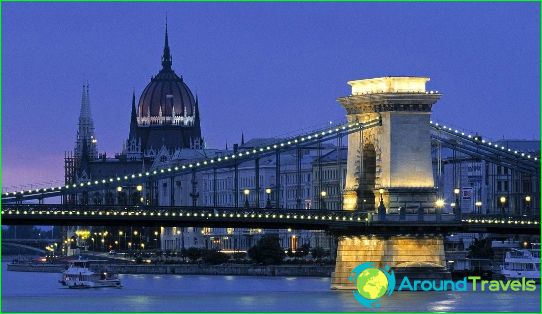 A small state, which found a cozy corner inThe center of Europe, has managed to circumvent his former colleagues in the socialist camp in terms of tourism and become one of the leaders in this sphere. Moreover, Hungary is called a land of contrasts, because medical and health resorts can be found a lot of cellars with fragrant Tokay wine, promotes healing, and the famous Lake Balaton resembles a sea.
Good climatic conditions, infrastructure, wealth of natural and cultural sites contribute to tourism in Hungary has been and remains among the priorities.
Quiet journey
Hungary - the country is relatively safe fortourist. Any traveler should have a passport, as required by local regulations. In addition, care must be taken in places where large numbers of people, not to give pickpockets a chance.
Another point which is important for touriststraveling alone - the transport system. It is tied to Budapest, which is easily accessible from anywhere in the country. But sometimes it is difficult to move from one small town to another, the nearby town, as you have to do it through the capital.
Thermal sanatorium
Most tourists falls to Hungary totake a course of treatments in one of the local resorts. The medical and wellness treatments using the water of numerous thermal springs, each of which is unique in its properties.
In addition, guests with pleasure travelThe scenic surroundings, taste the delicious cuisine, are attached to the mysteries of history and participate in numerous cultural events.
In memory of Hungary
It is understood that the baggage tourists leaving the country, there are many wonderful souvenirs and gifts. Among the most popular:
a bottle or two of flavored drink Tokaj, which is a symbol of the country;
tonic tincture "Unicum" (based on local herbs) or "palinka" fruit vodka;
crafts of local craftsmen, including porcelain, ceramics, dolls in national dress, lace.
Beautiful capital
Without Budapest tours can not do any tourist. This city is rightly ranked among the most beautiful cities in Europe, and the central part is under UNESCO protection.
In the middle of the Danube offers a wonderful islandMargaret, on which is located park, arboretum, nature reserve. You can select a sightseeing tour by bus in Budapest or take a short cruise on the Danube. The bravest travelers go far beyond the capital, to see the most beautiful castles of Hungary.
Hungary - hot springs
Photo