Traditions Hungary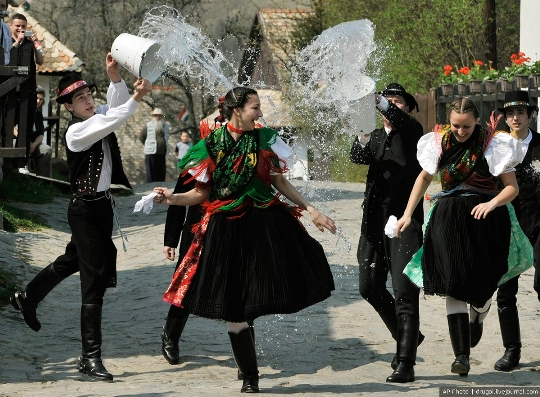 For those who know and love this country, traditionsHungary no special secret: goulash, czardas and bathing in the hot springs - this is what makes the locals remain optimistic with any authority and in the most difficult times.
About bath seriously
Hungary is often called the greatestspa resort not only in the Old World, but also in the world. A great number of thermal springs and their concentration per square kilometer allows Hungarians enjoy swimming and saunas in the truest sense of where this is currently wanted. Even in the capital, there are dozens of public baths, and everyone can dive into the healing waters, presented by nature.
The culture of bath procedures - Hungarian tradition,which she proudly displays its guests. The accepted treatment baths and relax, meet friends and discuss business, business plan, and gossip.
Stew and czardas dreams
Specialty Hungarians - the famous goulash. Hungarian traditions prescribe cook it so sharp and thick that a spoon in a pot worth and have a try with unaccustomed tears rolling down from his eyes. Taste the real goulash can be in any cafe or restaurant of the country - good taste is guaranteed. However, no single recipe dishes Hungarian firm does not exist. Every self-respecting hostess and chef of the restaurant are sure that it is their way of cooking goulash - the only correct. For the tourist as "goulash of your dreams" searches can be bright and unusual impression of the visit to the country.
Corporate dance inhabitants Carpathian republicIt called czardas and it is another tradition in Hungary. His happy dance on any holiday or festival. Without the fulfillment of this lyric beginning and swift dance to the finals does not do any significant event in the life of every Hungarian.
Useful things
The most fertile topics for conversation with a residentCarpathian country - the culture and traditions of Hungary, national cuisine, wine and folk festivals. Political discussions are best avoided, and questions about the material prosperity - not to ask.
Hungarians do not clink glasses during the toasts, and therefore participating in the meal, it is best to look, how they behave at the table by the locals.
After receiving an invitation to visit, you should buy a small gift the hosts. As a souvenir suit sweets, flowers or toys for children.
Photo