Airports India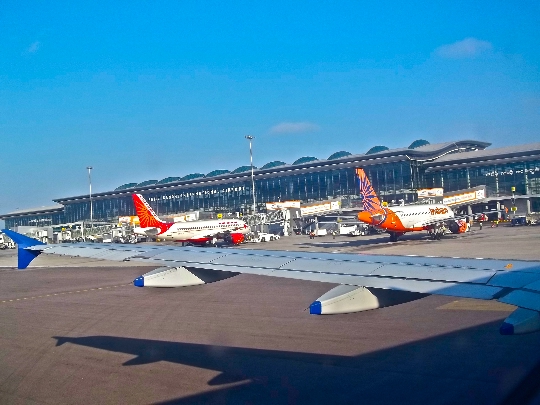 Air traffic - a very popular waytravel to India for foreign tourists and the local residents of moderate means. Indian train - entertainment not for the faint of heart, and to move from one city to another by air prefer all who cherish the time and nerves. Airports India meet all modern safety requirements, and international status is assigned at least ten of the country's air harbors.
Russian travelers can take advantage"Aeroflot" services board which fly daily to Delhi. In Doha, Mumbai and Cochin can be reached with Qatar Airways via Doha. Emirates Airlines Flights with transfer in Dubai is a daily schedule aviatablo Mumbai airports, Delhi, Bangalore and Chennai. The journey time by direct flight of just over 6 hours while the docking - 10 hours.
International airports in India
In addition to the capital to Delhi international status they have a few more air gate of the country:
Mumbai Chhatrapati Shivaji Airport is 30kilometers north of the city. International flights it serves Terminal 2, which is accessible from the city by taxi, bus company BEST and trains. Details on the website - www.csia.in.
Arriving at the resorts of Goa tourists land in the village of Dabolim and can reach the nearby town of Vasco da Gama by taxi or public transport.
The Kolkata airport Netaji Subhas Chandra BoseLocated 17 km from the center. It receives flights from many Asian countries, and with the city passenger terminals connected taxis working on an advance payment on the counters in the arrivals area, and air-conditioned buses. Details about the schedule and the infrastructure available on the website - www.nscbiairport.org.
City where the Trivandrum airportIt located 16 km from the famous beach resort of Kovalam in Kerala. Getting to the selected destinations will transfer from the hotel or a taxi that works on a prepaid basis.
metropolitan area
India Airport in Delhi is named after Indira Gandhi. The city where the airport is located, is called Palam. It is located 16 km from the center of the Indian capital, and they can be overcome in several ways:
The train from Palam station to station in New Delhi spends on the road less than half an hour.
The most convenient form of transfer - Delhi metro station is located in Terminal 3. Trains depart towards the capital every 15 minutes.
Buses for the city center every half hour.
Taxis are available at the exit of the arrivals area and work on the prepaid system on special racks. Tour price depends on the distance.
Awaiting departure, passengers can visit the cafes and restaurants, use the services of currency exchange points, charge mobile phones and buy souvenirs in the duty free shops.
Airports India often announce strict regimesafety and the entrance to the terminal building is able to finish only for passengers with hand on a printout of the electronic ticket, and no earlier than 3 hours prior to departure.
Photo