How to fly from New Delhi to Moscow?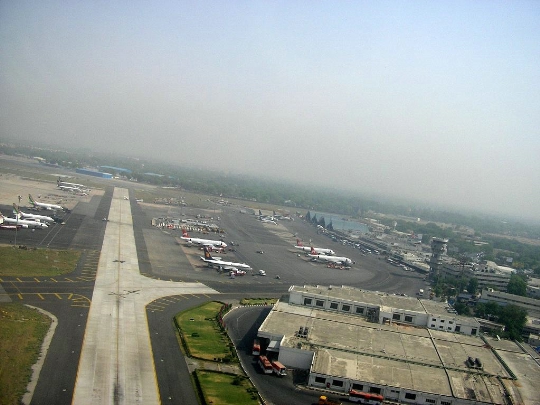 On holiday in Delhi you can admiremonument "India Gate", Lotus Temple, mosque Jama Masjid, Red Fort, wander through the narrow alleys and little market of the Old Town, to taste Indian cuisine, ride on elephants, to reach the summit of Sikkim, visit the Yoga courses, dive into the traditional culture of India and the center "India Habitat Centre", have fun in the amusement park "Adventure Island" and the water park "Fun'n'Food Village"? And now you need to get information on the return flight?
How to fly from New Delhi to Moscow on a direct flight?
The capital of India away from Russia's capital for more than 4300 km, and therefore, in the air you have to spend about 6 hours.
On board the aircraft "Air India" you will spend a littleless than 6 hours (landing in "Domodedovo"), "Aeroflot" - 6 hours 15 minutes (arriving in "Sheremetyevo"), "Transaero" - 6 hours 10 minutes (landing in "Vnukovo").
Counting your holiday budget, reload it cost Delhi-Moscow in the amount of 15600-18400 rubles tickets (relatively inexpensive tickets sold in March, May and June).
Fly Delhi-Moscow with transfers
When docking in Athens, Brussels, Düsseldorf, Istanbul, Zurich and other cities, travelers will have to spend on the road from 10 to 24 hours.
Those interested should take connecting flightsConsidering that transplantation in Guangzhou ( "China Southern Airlines') to extend its air-travel at 19.5 hours in Dubai (" Jet Airways ") - 20 hours Vantaa (" Finnair ") - 12 hours, Doha and Istanbul ( "Qatar Airways") - 18 hours, in Vienna and Munich ( "Lufthansa") - 16 hours, in Doha and Milan ( "Qatar Airways") - 19 hours, in Bahrain ( "Gulf Air ") - 12.5 hours in Vantaa and Düsseldorf (" Air Berlin ") - 17 hours, in Brussels and Warsaw (" Jet Airways ") - 18.5 hours in Vienna (" Austrian Airlines ") - 16.5 hours.
Selection of the airline
Prior to the Russian capital can be reached with the following air carriers (they take you to the Airbus A 330-200, Boeing 737-900, Airbus A 340-600, Boeing 737-900 aircraft, and other):
- "Air India";
- "S7 Airlines";
- "Jet Airways";
- "KLM";
- "Gulf Air".
Registration on a flight Delhi-Moscow passes at the airport Indira Gandhi (DEL), located 20 km from the center of Delhi.
If desired, here you can wrap the trunks of densea protective film (go to the corresponding rack), and then pass them to the storage chamber to light move around the airport before flying home (to move between terminals provided free shuttle buses).
If you get hungry, you will be free to visit cafes and restaurants, and if you are interested in shopping, at your service - shops, including duty-free.
In addition, the airport has ATMs, currency exchange offices, waiting rooms of different levels of comfort.
What to do in an airplane?
In flight, it is worth thinking about how someone from relativesperson present in the memory of your trip to Delhi souvenirs in the form of jewelry made of gold and silver, Indian spices, teas, essential oils, Indian rum Old Monk, woolen and silk products, saris, national musical instruments, figurines idols, electronics, medicine natural-based cosmetics brands "Himalaya" and "Swati".
Photo