Delhi Metro: map, description, photos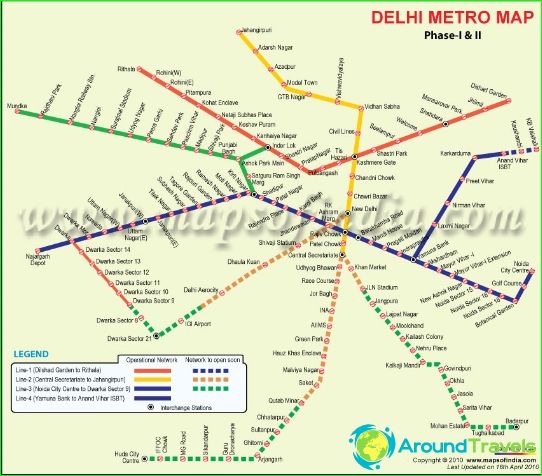 Driving Delhi Metro
Delhi Metro is the world's thirteenth on the generalthe length of the lines (190.0 km) underground. This is the main transport of the capital of India, as of September 2013 consisting of six main lines and the Airport Express Line, serving 141 stations (135 subway station and 6 Airport Express stations), 35 of which are underground, five are on the surface, and the rest of the ground. All Delhi metro stations have escalators, elevators and tactile signage for the visually impaired passengers.
Delhi Metro operates daily from 06:00 to 23:00 with an interval of trains, is 2 minutes 40 seconds during peak hours. The average amount of traffic more than 2,700 per day, which allows you to carry about 2.4 million. Passengers a day. Trains generally consist of four and six cars, but due to the increase in load on some branches reaches eight. As of August 2010 Delhi metro has transported more than 1.25 billion. Passengers since its inception.
Metro Planning began in 1984, whencity ​​authorities received a proposal to develop a multi-modal transport system for the city. The Government of India and the Government of Delhi announced the beginning of construction in 1998, and the first metro line was opened in 2002, the second (yellow line) was opened in 2004, the blue line - in 2005, the green and purple line in 2010. Express to the airport started its work in 2011. Ads on the subway recorded known speakers: Simona Rini Khanna and Shammi Narang.
Recently Easy subway was opened in New Delhi,associated with the yellow line, which are the metro tickets. But the transport system of the city still needs to be expanded, because in the period from 1981 to 1998, there was a twofold increase in population and a fivefold increase in the number of vehicles.
Tickets to Delhi Metro
Passengers in the subway Delhi offers three options fare:
Badges, which are only valid for a single trip on the day of purchase and nominal value depends on the distance to the desired station.
Refillable Card for durablesconvenient for frequent trips. The card is valid for one year from the purchase date or the date of the last recharge, the denomination of INR 100 to INR 800. On map 10% discount on all trips.
Tourist Card is valid forone or three days with unlimited number of trips. The cost of one-day and three-day card INR100 card INR 250 for the card to pay a deposit of INR 50.
Photo Delhi metro