Prices in Delhi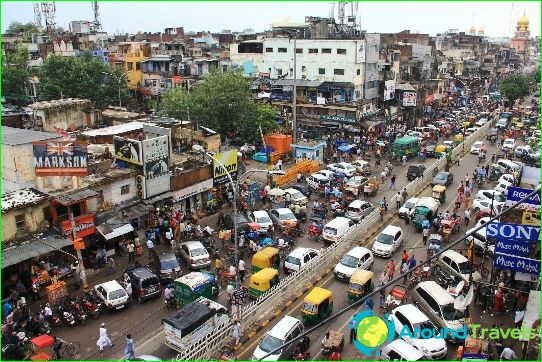 The most interesting cities in India is considered to Delhi. It is the capital of contrasts, where the beautiful skyscrapers erected next to the slum. Prices in Delhi low compared with prices in the capitals of other states. At the same time the standard of living in this city is much higher than in other areas of the country. Experienced travelers say that in Delhi the minimum amount of spending is $ 20 per day per person.
Where rented accommodation
In Delhi, there are many options for accommodationtraveler. In some areas, you can find accommodation for 8 euros. To book a room in the best hotel, it is necessary to spend more money. The most luxurious hotels include Le Meridien, Radisson Hotel New Delhi and other places. On average, the cost of rooms in hotels considered to be low. For example, a room at the Amsterdam Hotel is 3 times more expensive than in the same hotel Delhi. Luxury city hotels offer rooms for 200 euros per night. Tourists are guaranteed comfort and quality service. The 5 * hotel has a swimming pool, spa, massage room, restaurant.
What to buy in New Delhi
In India, used double the price bracket - forforeigners and locals. The currency of the country is the rupee. To pay for the goods can only rupees. But to exchange dollars for rupees without problems. Many shopping fans specially visited Delhi to make a purchase. trade infrastructure here is very well developed, and the cost of goods is low due to fierce competition. The most famous Main Bazar market town located near the railway station New Delhi. There you will find a wide range of products for every taste - from food to clothes and shoes. In this market sell clothing that is created especially for travelers:. T-shirts, skirts, etc. Here tourists purchase souvenirs and jewelry at low prices. For fruits, sweets and tea is better to go to Nehru Bazaar. Mango can be bought for $ 0.8, bananas - for $ 0.1.
Tours in New Delhi
If you are interested in the sights of the city,pay attention to the Qutub Minar, which is considered the highest minaret in the world, built of brick. It is included in the UNESCO list of sites. Also, you should definitely take a look at the Red Fort. Excursion programs in Delhi usually include visits to temples. The famous Jama Masjid mosque can be visited free of charge. To take photographs inside the mosque, you have to pay $ 3. A ticket to the tomb Hamayuna costs $ 4.
Food
In small restaurants and street stalls to buy inexpensive food. For $ 3 a budget restaurant you will be available to a nice dinner. The luxury restaurant meal will cost more than Rs 500.
Photo