Delhi Streets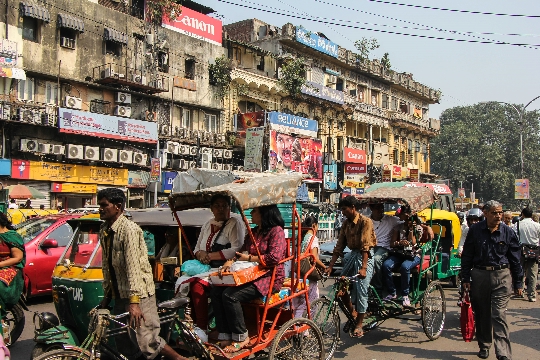 Write detailed reports about the journey in suchcity ​​like Delhi - business, obviously doomed to failure, because of the abundance of impressions, emotions and memories get so much material that it is enough for a small encyclopedia. Delhi - the city special. Already in the eighth century, it was a kind of link between the two great civilizations - Islamic and Hindu, so the streets of Delhi absorbed the culture and traditions of many peoples of the peninsula.
Today, Delhi is a paradise for tourists. However, in order to know the essence of this city, it is better to stay away from vyloschennyh tourist routes, where all the beautiful sights and visiting little-known streets.
Main Bazaar
Noisy, dirty and motley street Main Bazaar -a place that is strongly associated with the East. There are many sellers noisy, which definitely need to bargain, as they tend to ask for the goods the price is 3-4 times higher than the real. In this regard, it is the exact opposite of Connaught Place, on which the respectable shopping malls to traditional European-style price tags and checks.
Shopping Quarter Spice Market
Street Bazaar Spice Market is aa giant marketplace. As the name implies, the main product - spices. Spices are so many that are movers and sellers go to the special bandages, or flavor, flowing from all sides, just intoxicating. In this place you can find tens of thousands of items of different spices, many of which are never found in even the most large supermarkets. So, if you go for spices, only here.
Mandir Marg,
Although that is situated on the street,Basically, municipal institutions, there is also a lot of interesting things for tourists. Mandir Marg, which is located between the major parks, so the scenery is very picturesque.
Chandni Chowk
Another street-market, however, it is more popular among the local population. So you need to be particularly attentive to all the shopping, especially when it comes to food.
Rajpath
Ceremonial Avenue, also known as"Kings Highway". It hosts a parade on national holidays, and the prospect - a very large, beautiful and well maintained. Surrounded by many green areas, so that it could be called the most beautiful part of the city.
Photos Delhi streets