Tours in New Delhi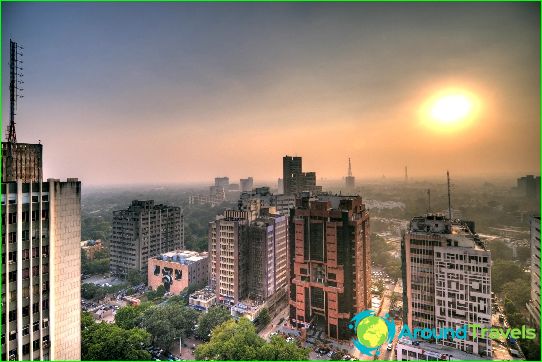 Delhi - the second largest Indian metropolis. On its territory is located in New Delhi, which is the political capital of the country. Delhi's population is approaching 12 million people, and the cultural diversity of the population of Delhi, its customs and preferences makes the capital of India, one of the most unique cities in the world. When planning trips to Delhi, should take into account particular climate and mentality of local residents to travel has brought only positive impressions.
Briefly about the importance
Tropical monsoon climate and make Delhi a city withvery uneven precipitation regime. The rainy season in the Indian capital is in July-August. Hot summer, when the hot air flows from the deserts raise the thermometer to 40, is replaced by a misty and cool winters. Night temperatures in January can drop to almost zero.
The capital has an international airport, andfor a tour company in Delhi need to book a ticket for the direct or connecting flight. After landing, you can use the convenient metro or taxi Delhi, payment for his services on the racks at the entrance.
When choosing a place for a meal in Delhi, it is importantmake sure that the sanitary condition of the cafe or restaurant is at a decent level. Buying food from street vendors is very carefully - the European untrained stomach can not adequately respond to. In any case, the waiter or food seller is to warn about the desired degree of severity of the selected dishes.
To participate in the festival
Many compatriots are planning trips to Delhi for a time that coincides with the Indian holidays or festivals. At such moments, the city hosts colorful shows and processions, in which you can participate:
Diwali festival of light in the middle of autumn is dedicatedGoddess Lakshmi symbolizes the victory of good over evil. In Diwali days in Delhi and other cities are organized fireworks, lit the ceremonial lamp, and people give each other gifts.
Festival of colors Holi is celebrated in early spring. For two days, residents and persons in Delhi showered each other powders, herbs, symbolizing protection from diseases. These powders have bright colors, but because of Holi - festival is very colorful and beautiful.
Qutub festival in the capital - a musical performance, during which the dancers and singers arrange presentation on the background of the famous architectural monument Qutub Minar.
Photo