Shopping in Delhi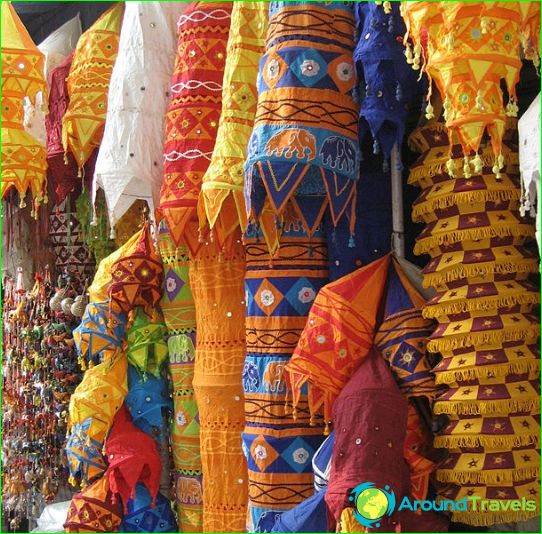 Indian markets are widely known for their flavor -noisy, filled with different smells and colors just incredible. Here you can buy everything -. From all sorts of spices and herbs, coffee, the famous Indian tea and finishing with gold and silver jewelry, handmade textiles, footwear, etc. It is worth noting that the best markets in India are located in Delhi, and that here come dealers with throughout the country for goods to then sell it at exorbitant prices to tourists.
So, what to buy in New Delhi, and some of the city's markets are considered to be the best?
The main markets of Delhi
Main Bazar (Main bazaar) - is one of thethe most famous and biggest bazaars Delhi. Here you can buy national Indian clothes or right on the spot ordered her sewing (custom performed during the day), expensive jewelry made from precious metals and stones, and a cheap knockoff, aromatic oils, spices and tobacco, as well as many other products, the initial price of that you can safely divide by three and insist on them to the end of the auction the seller. And then the question - what to bring from Delhi to numerous friends and family - will disappear by itself, because such a wide range of products combined with affordable prices - a paradise for shopper. Here there are numerous shops and pharmacies with Ayurvedic medicines and herbal cosmetics that are made right in front of you.
Palika Bazaar (Palika Bazaar) - a place whereYou can buy any electronics, wheels, and of course, clothes and souvenirs. However, note that the market is in a closed room and in the afternoon there is unbearably stuffy. Therefore, if you prefer to shop in a more "civilized" conditions - go to the boutiques of Connaught Place and Ansal Plaza, where shops are presented with many original products of famous brands. Note also that buying woollens and silk is better in specialized stores, for example, Delhi Haat. Since the market is too much of a chance to buy synthetics at an incredible price.
What to bring from Delhi, with a limited budget?
Going shopping at one of the markets, notworry that you have in your pocket remained not so much money. For quite reasonable prices you can buy thousands of trinkets and goods, and that will delight you and your loved ones. For example, incense and spices, ethnic souvenirs and cheap cotton T-shirt with embroidery. Or practical flip-flops at a price of Rs 20, or embroidered leather shoes from 250 rupees. Among the tourists, especially from the cold regions of our planet, are popular Tibetan shawl - light, warm and beautiful. Their value varies between 120-400 Rs, depending on the size and composition of the tissue. Do not forget the famous Indian tobacco and original ethnic souvenirs.
Photos products in Delhi