Markets and shops Goa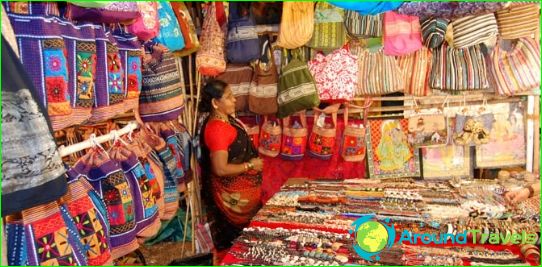 Goa - the smallest state in the south-west coastIndia. It attracts tourists primarily for its pristine sandy beaches, exotic nature, monuments, reflecting a mixture of European and Indian civilizations. Souvenirs made by local artisans, reflect a motley particles of an ancient culture and a little closer to understanding the beauty and meaning of the world.
But before you buy a work of local artisans have thoroughly bargain. The lighter your skin, the higher the price of the original hall.
Shopping in Goa committed everywhere. You can start even before the exit of the hotel - many hotels have their own shops offering local souvenirs: carpets, elephant figurines of deities or of precious wood, jewelery and costume jewelery, the finest cashmere and cotton scarves with exquisite embroidery. Prices are very low, but still did not immediately agree, bargain. In the comfort of your abode will likely show up as a series of popular products: the bright summer clothing made from natural fabrics, beach accessories, cosmetics and so on.
Popular Goa markets
Beach Market Andzhuan. Runs every Wednesday. Sellers come here from across the country. Therefore, the range is not limited to products of Goa: thin woolen plaids, bright batik, rugs with a complex pattern, bedspreads and cushion covers, embroidered, swimwear, hippie clothing, bags, and more. Local characters are very picturesque: a woman in a sari, Tibetans, trained monkeys, snake charmers and other artists performing outside walkways, right among the people.
Friday Market Mapuasa. It is less focused on tourists, more for locals, and therefore cheaper, than Andzhuan. Souvenirs and suitable clothing are smaller, but they are taking place. But all kinds of blankets, spices, sweets, local drinks are presented wider. In the town are many shops, focused on those who decided to stay on longer and Goa equips life.
The night market in Arpora is working in the tourist season, from December in the night from Saturday to Sunday. Conceived by format Andzhuana, but at night, to rest from the heat.
Civilized shops are concentrated inPanji capital. There is in him and boutiques of luxury brands, and shopping centers. Rates are considerably lower than in Europe. But many doubt the authenticity of the goods. Nevertheless, the quality of their decent, why not buy?
Pharmacies in Goa can not be ignored. If the local drug deal is not possible, cosmetics made from natural ingredients is sure to impress both sexes.
Sooner or later it's time to go homeand updated the question of packing suitcases. The main secret - initially from home do not have to take anything extra - cosmetics and clothing should be enough just to get to the place. Everything else you buy in Goa.
Photos Goa markets