Taxis in Goa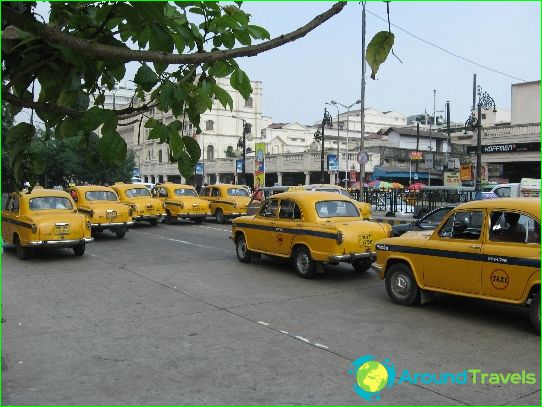 Official taxis in Goa (you can distinguish them byyellow license plates) are subject to the local Ministry of Transport: in most cars is not equipped with meters, so the payment for travel is made at fixed rates.
Taxi services in Goa
Parking public taxis can be found near thebus and railway stations. In addition, you can book a car at the hotel or leave an order for supply of cars, calling the taxi company "Goa Taxi" on + 91832222 89 89.
The good news for the ladies - in Goa recently appeared female taxi in which only women can be passengers and drivers.
Moto-taxi in Goa
If you have little luggage, and you are traveling alone, you can hire the services of moto-taxi. 1 km in average costs 5 rupees.
If desired, the bike can be rented (doThis can, for example, the hotel) - this service will cost you Rs 200 / night (+ petrol). In this case, you need to take note of the following: it is important to go with the observance of speed limits (40 km / h), be sure to put on a helmet.
The cost of a taxi in Goa
Do not guess how much a taxi to Goa - read the current rates:
per piece of luggage will have to pay 10 rupees, but the expectation is usually bypassed completely free;
night rate (its action begins at 23:00 and ends at 05:00) above the daily 35%.
To view the prices for the "prepaid" taxiscan be at the airport (go to rack "Prepaid Taxi", to call a taxi and pay the fare immediately, at the bar) and at bus stations Goa - there, in the yellow billboards, posted information to the rates (of which you will learn about the cost of the trip, designed to certain points).
Often, private taxi drivers cheat touristsposing as officials - they provide transportation services at inflated rates (25-30 rupees / 1km). Distinguish official whether the driver in front of you (pre-paid taxi) can be according to the method of payment - in this case you pay your fare over the counter, and the driver will receive a check upon arrival.
If you use public servicestaxi, then, for example, from Dabolim airport to the Dona Paula beach you pay 670 rupees, if you sit in a car without air conditioning, and 779 rupees if you sit in an air conditioned car, and from Dabolim to Cavelossim - 800-920 rupees (price depends on there is air conditioning in the car or not).
In any case, the fare should be clarifiedadvance and does not pay for travel to the end of the trip. Note: local taxis can only pay in cash and it is desirable to have small bills, as to give a deposit may be difficult.
Photos Taxi in Goa