Excursions in Goa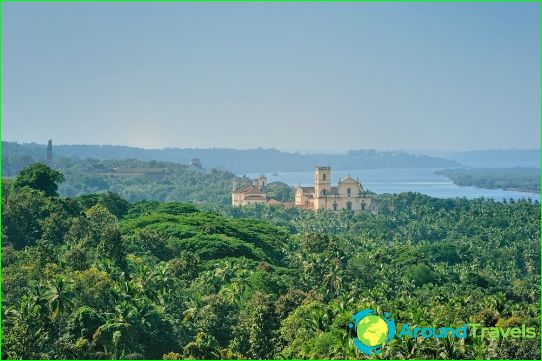 Goa is considered the main resort in India, whereperfectly able to relax as a couple with children and young people. Excursions in Goa will help you as much as possible to get acquainted with the history and culture of the most advanced in all aspects of the country resort.
Goa - a state that is located in the southwestern part of the country and is divided into North Goa and South Goa.
Excursions in South Goa
Excursions usually conditionally divided intothematic and sightseeing. You can order a combined tour, during which visit several different sites. If you decide to go on sightseeing tours to the city of Margao in Goa, then you must visit attractions of this beautiful ancient city:
St. Sebastian Chapel.
Chapel of Monte.
Pandava Caves.
Church of the Holy Spirit.
The thematic excursions should primarily include site visits, which have cultural and historical value, as well as visiting the beautiful natural attractions.
The main sights are in the south of Goa:
Fort Cabo de Rama. One of the largest and oldest forts of the state, which was built in 1679 by order of the local rulers, and in 1763 the fort was restored Portuguese.
Church of St. Anthony.
Reserve Kotigao. This reserve is the second area in Goa. Of great interest to tourists cause the multi-storey forests and interesting rare plants.
The local beaches. Very popular beach called Mobor, Varca, Betul, Cavelossim and many others.
Excursions in the North Goa
List of villages in the north of Goa, which may be of interest to tourists:
Ashvem. From Morzhima to this village can be reached in three minutes on the bike. There are more than a quiet place and housing prices are more affordable.
Anjuna - a village which is located near Vagator and Chapora. To it can be reached by bike in five minutes. This place is perfect for single travelers.
Vagator. This place is like most young tourists, as there are a lot of clubs, cafes and restaurants.
Mandrem. This quiet hamlet without clubs and bars. An ideal place for families with young children.
In Goa tours are offered completely different. Between themselves, they differ in duration, theme, and other criteria. Basically, the majority of tourists visit Goa facilities such as beaches, natural monuments and places of interest that are related to religion, culture and history of this beautiful place.
Goa Tour Photos