Coast of India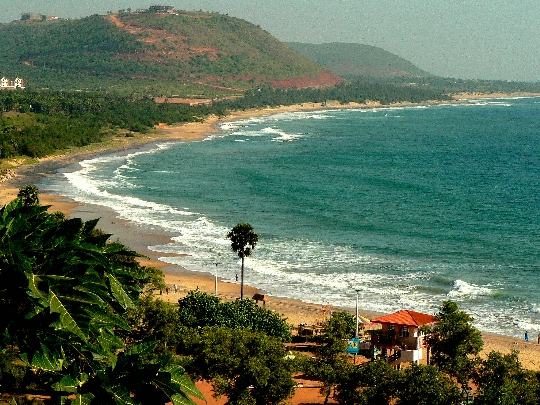 Coast of India has a length of 6,000 km: the west coast facing the Arabian Sea, the east - to the Bay of Bengal and the South - bordering the Indian Ocean.
India resorts on the coast (the benefits of rest)
Interested in diving? The best dive sites are located in the Andaman and Nicobar Islands: their waters are found sweetlips, moray eels, angelfish. In addition, for those wishing to organize diving trips, during which you can explore the merchant ships sunk during the Second World War. If you want to surf, surf-key slots you will find on the beaches of the state of Andhra Pradesh, Kerala and Orissa. Well, you will enjoy a beach holiday on the aquamarine waters of Goa and Kerala (in addition to sea beaches, the state offers a rest on the inner canals, rivers and lakes).
Cities and resorts on the coast of India
Mumbai: the city offers a look at the Flora Fountain, explore caves of Elephanta, look at Prince of Wales Museum, Babulnat temple and the Museum of money, visit the Indian film studio "Bollywood" (arranged trips on set), a water park and amusement park "Esselworld" (guests will be able to visit " adventures in the Amazon, "" Hill Miss Fisli "," Laguna "and other thematic areas), situated at Aksa beach beaches (equipped tents with drinks and snacks, but relaxing on this beach, you have to be careful because here the available sites with quicksand sand), Juhu Beach (it will appreciate families with children who wish to enjoy the spectacular sunsets, in addition, there is a café, a shop with souvenirs, stalls with snacks) and Chowpatty Beach (it features dining establishments, massage parlors, amusement, benches, where you can buy souvenirs).
Varkala: here you can see the temple of Janardhana Swami and spend time on the beaches, such as Thiruvambadi Beach (covered with black sand). With regard to the Papanasam beach, though you'll have to go down to him by the steep path, but it's not very crowded, and settled on the banks of small shops and restaurants.
Kovalam: this resort built on the coast of shops, hotels, Ayurvedic parlors (where you will be offered to make oil, massage with Shirodhara or sandalwood paste) and clinics. Here you will be offered a ride on the canals and backwaters in the House-bots, to visit the orphanage of elephants, where you can ride on adult elephant and a "chat" with their cubs, to stay on Lighthouse Beach beaches (here laid out a lot of hotels, shops and catering establishments) or Maine -Bich (on the weekends local people resting here). And if you like to sunbathe topless, feel free to head to the Hawa Beach beach.
Holiday in India - it's noisy trance parties in Goa, and introduction to the spiritual practices, and a beach holiday, and the passage of treatment with natural ayurvedcheskih funds.
Photo