Bangalore Metro: circuit, photos, description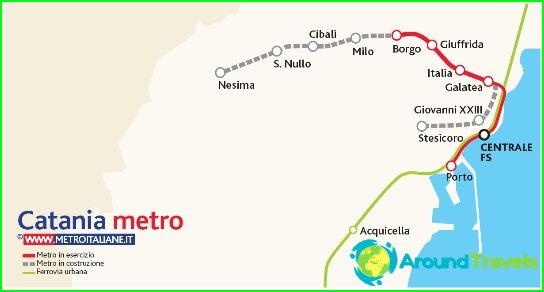 Metro map of Bangalore
In the Indian city of Bangalore operates off-streeturban transport system, which is a high-speed rail subway. It was put into operation in October 2010. Bangalore Metro has become the fourth opened in India.
Designing Bangalore Metro began inthe end of the last century, but the final version of the draft adopted only in 2006. Construction of the metro in Bangalore conducted with the assistance of Japanese experts, and continues to this day.
Bangalore Metro has two operating branches,marked on the purple and green patterns. The total length of all paths Bangalore subway is more than 42 kilometers. Part of rails laid under the ground, and the rest - land racks. They are raised on concrete base is high enough above the ground. Some stations and paths are located on the 10-meter level on the city streets.
Branch number 1 runs from north to south andmarked in green. It stretches for 24 kilometers, and only three of its 24 stations are underground. "Green" route connects Hesaraghatta Road and Puttenahalli.
Line number 2 metro runs from Bangalorewestern outskirts of the city to the east, and contains in its over 17 stations, five of which are built underground. Its length is a little over 18 kilometers. First, it was put into operation the second section is the line - in 2011 passengers took the first six of its stations.
The compositions are used in underground lines Bangaloretrehvagonnye, and the voltage is betrayed by a contact rail. The cars are equipped with air conditioning. All ads and station names in the subway Bangalore duplicated in English. Voice messages are also made in two languages.
Photos of Bangalore Metro