Drinks India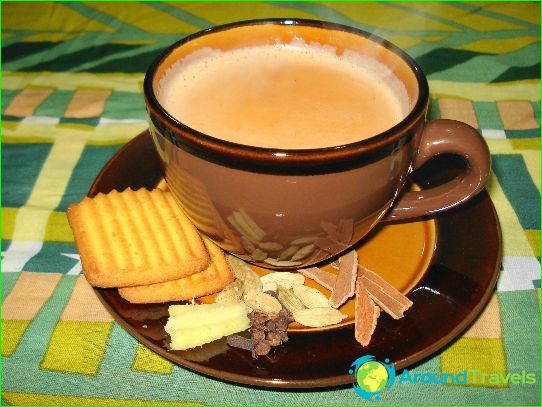 Distinctive and colorful India appears for the first timeI came here the traveler endless eastern fairy tale in which all want to know, see and taste. Its natural attractions compete with architectural masterpieces, and the kitchen and Indian drinks are exotic even for those who have a rich experience of tours in Asia.
Alcohol India
Alcoholic beverages in India, contrary to popularview, and produce and use in almost all states. The only exceptions are a few of them, and therefore carry with them a large amount of alcohol there is no need. Customs requires tourists to carry no more than 0.95 liters of alcohol for personal use. All the rest have to buy on the spot, especially since alcohol in India is varied and inexpensive. A liter of local rum is as of 2014 no more than $ 5-7, depending on the region and supermarket level.
The national drink of India
The Indians are not particularly consume alcohol, but becauseIndia's national drink - not rum or beer. They consider a traditional masala tea which guests will be offered in each house, café or shop. This special drink made from black tea, milk and spices, the main of which is the ginger. Masala tea wonder restores strength, energizes, refreshes memory and makes every moment of life meaningful and important. His cook every Hindu and, despite some differences in the recipes, the effect after drinking a cup of tea masala begins the same: there is energy and improves mood. And please submit masala tea Indians perceived very positively. They begin to feel a special respect and appreciation to the guest, who wishes to enjoy this very traditional drink in India.
Alcohol India
The country can buy or order in a restaurantalmost all types of alcohol. Uniform recommendations do not exist and the choice depends only on the personal preferences of each. One only has to look out for drinks with ice, without being sure of the quality of the water from which it is made. In addition, the country's laws prohibit the consumption of alcohol on the streets and in other public places.
Alcoholic beverages India, recommended by seasoned travelers:
Old Monk - variety of local rum made from sugar cane.
Aristocrat - whiskey in the triangular shape of the bottle.
Sula - grape wine produced in the south of the country.
Kingfisher - cheap beer with a very special taste.
Photo